Cosmetic Dentistry Reveals Natural Beauty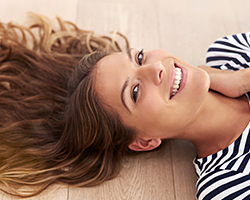 At our practice, we like to take a slightly different approach to cosmetic dentistry than most. Rather than simply giving everyone a super bright, Hollywood-style smile, our team will take the time to design and give you the smile that best suits YOUR unique facial features. With the treatments outlined below, we can easily eliminate a wide array of flaws so you can smile with confidence everywhere you go. Are you ready to get the smile you've always wanted? If so, contact us today.
Porcelain Veneers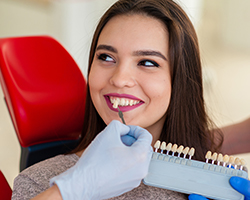 Porcelain veneers are one of the most popular cosmetic treatments available today. Why? Because they are able to fix a long list of smile imperfections simultaneously, including:
Stains
Chips
Cracks
Gaps
Undersized or slightly misshapen teeth
Slightly rotated teeth
They are extremely thin ceramic coverings that are bonded to the front of the teeth, and they can be custom-made to your exact specifications. You can get just one or an entire set to achieve a dramatic result.
Learn More About Porcelain Veneers
Metal-Free Restorations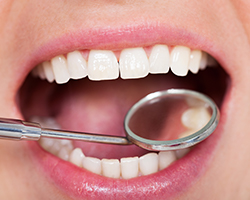 If one of your front teeth has developed decay or sustained quite a bit of damage, we can rebuild it using a strong, safe, and natural-looking metal-free restoration. Dental porcelain can be used to create a restoration so lifelike, even YOU will have trouble knowing where your real tooth ends and it begins!
Learn More About Metal-Free Restorations
Direct Bonding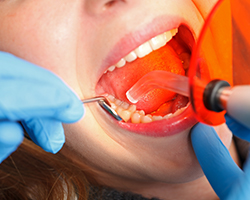 Direct bonding allows Dr. Twohig to literally sculpt a flawed tooth to perfection. After applying a composite resin to damaged/missing enamel, he can shape it to correct a small stain, chip, or gap in a matter of minutes before hardening it with a special curing light. This procedure usually takes less than an hour, is completely painless, and the results can easily last for 10 years or more. It allows you to get the most results with the least amount of dental work!
Teeth Whitening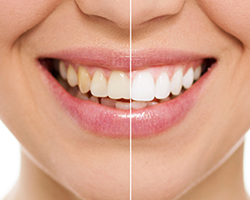 Teeth naturally darken over time due to a number of factors, ranging from the foods and beverages we enjoy every day to natural aging and genetics. If you're looking to restore your smile's youthful glow, we can help you do it with the most comprehensive whitening treatment available today: Kor Whitening. This system uses a gel that is specially formulated to break up even the most stubborn stains while also strengthening the teeth in the process. With it, we can make your smile up to eight shades whiter in next to no time.
Learn More About Teeth Whitening
Gum Recontouring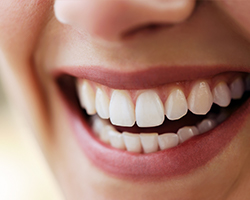 Do you have an uneven gum line that causes you to hide your smile? Or, are your teeth overshadowed by your gums? If so, Dr. Twohig can help correct both issues quickly and painlessly with a soft tissue laser. The laser's highly-concentrated beam of light can remove excess tissue and shape the gum line to give a patient that perfectly balanced look in just one appointment. Thanks to the laser, you'll be comfortable the entire time without the need for local anesthesia!
Ozone Injections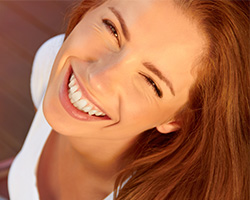 Ozone, when strategically injected into the skin, can lift, firm, tone, and even diminish small wrinkles located on the forehead and around the eyes, lips, nose, and jaw. The treatment itself only takes a few minutes to complete, and thanks to the natural properties of ozone, no anesthetic is even needed to make it entirely painless! Now, you can get a smoother, younger looking face to go with your gorgeous smile, all using the holistic approach you've come to trust.
Cosmetic Dentistry FAQs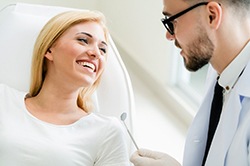 Undergoing cosmetic dentistry requires time and money. Depending on the type of service you require, you may see new and improved results the same day or several months down the road. No matter the extent of your treatment, however, you probably have many questions about it. This is where your cosmetic dentist in Weyauwega comes in. Dr. Twohig is here to answer your questions and provide as much detailed information as possible. Review the information below and feel free to call us should you need further assistance.
Is Cosmetic Dentistry Expensive?
Cosmetic dentistry is known for being quite costly. Of course, this depends on which service you choose to move forward with. Unfortunately, there is a common misconception that these services are only available to those who are rich and famous. Fortunately, that's not the case at all. You, too, can pursue cosmetic treatment, but you will need to inquire about alternative ways to pay. Why? Because most dental insurance companies will not pay for these services. Their reason is that they are not deemed medically necessary and are instead, elective. The good news is that Dr. Twohig offers flexible financing through CareCredit and Lending Club so that you can break up your payments instead of paying the full amount upfront.
How Can Cosmetic Dentistry Change Your Life?
While it is a safe assumption to think that cosmetic dentistry changes your aesthetics, it also does more to improve your oral health than you might think. By addressing gaps, overcrowding, stains, and even misshapen teeth, you can reduce your chances of developing many of the most common oral health problems, such as dental decay, gum disease, and worn tooth enamel. Whether you opt for veneers, teeth whitening, gum recontouring, or metal-free restorations, you can expect to notice an improvement in the health of your smile thanks to your decision to choose cosmetic dental treatments.
How Do I Know If I Need Cosmetic Dentistry?
When meeting with your cosmetic dentist, you will undergo a thorough examination to determine if you are a candidate for cosmetic dentistry. Typically, if you show signs of chips, cracks, stains, misshapen teeth, discoloration, misaligned teeth, gaps, or overcrowding, there is a good chance you'll be given the green light to move forward with treatment. But it is necessary that Dr. Twohig make sure you do not possess any issues with dental decay, gum disease, or other more serious oral health problems. If so, you'll need treatment to address these issues first.
What is the Difference Between a Dentist and a Cosmetic Dentist?
All dental professionals are required to be licensed in their state and have a DDS or DMD degree. This is obtained at an accredited university. After completing their dental degree, a dentist can choose to enter into a specialization such as periodontics, pediatrics, prosthodontics, orthodontics, or even oral and maxillofacial surgery. While cosmetic dentistry is not deemed a specialization by the American Dental Association (ADA), it does require much training and experience before a dentist can begin to provide treatment.