Cosmetic Dentistry Reveals Natural Beauty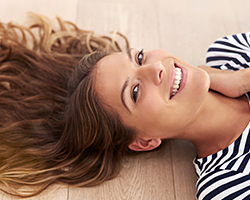 At our practice, we like to take a slightly different approach to cosmetic dentistry than most. Rather than simply giving everyone a super bright, Hollywood-style smile, our team will take the time to design and give you the smile that best suits YOUR unique facial features. With the treatments outlined below, we can easily eliminate a wide array of flaws so you can smile with confidence everywhere you go. Are you ready to get the smile you've always wanted? If so, contact us today.
Porcelain Veneers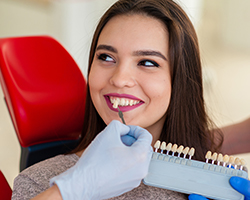 Porcelain veneers are one of the most popular cosmetic treatments available today. Why? Because they are able to fix a long list of smile imperfections simultaneously, including:
Stains
Chips
Cracks
Gaps
Undersized or slightly misshapen teeth
Slightly rotated teeth
They are extremely thin ceramic coverings that are bonded to the front of the teeth, and they can be custom-made to your exact specifications. You can get just one or an entire set to achieve a dramatic result.
Learn More About Porcelain Veneers
Metal-Free Restorations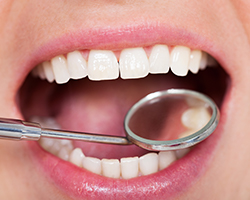 If one of your front teeth has developed decay or sustained quite a bit of damage, we can rebuild it using a strong, safe, and natural-looking metal-free restoration. Dental porcelain can be used to create a restoration so lifelike, even YOU will have trouble knowing where your real tooth ends and it begins!
Learn More About Metal-Free Restorations
Direct Bonding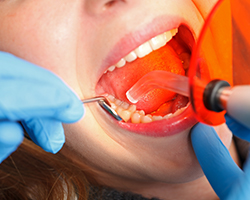 Direct bonding allows Dr. Twohig to literally sculpt a flawed tooth to perfection. After applying a composite resin to damaged/missing enamel, he can shape it to correct a small stain, chip, or gap in a matter of minutes before hardening it with a special curing light. This procedure usually takes less than an hour, is completely painless, and the results can easily last for 10 years or more. It allows you to get the most results with the least amount of dental work!
Teeth Whitening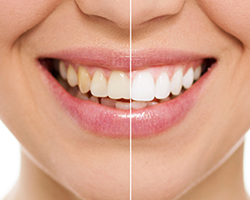 Teeth naturally darken over time due to a number of factors, ranging from the foods and beverages we enjoy every day to natural aging and genetics. If you're looking to restore your smile's youthful glow, we can help you do it with the most comprehensive whitening treatment available today: Kor Whitening. This system uses a gel that is specially formulated to break up even the most stubborn stains while also strengthening the teeth in the process. With it, we can make your smile up to eight shades whiter in next to no time.
Learn More About Teeth Whitening
Gum Recontouring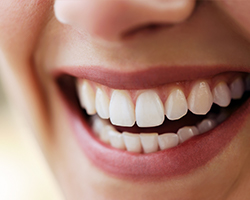 Do you have an uneven gum line that causes you to hide your smile? Or, are your teeth overshadowed by your gums? If so, Dr. Twohig can help correct both issues quickly and painlessly with a soft tissue laser. The laser's highly-concentrated beam of light can remove excess tissue and shape the gum line to give a patient that perfectly balanced look in just one appointment. Thanks to the laser, you'll be comfortable the entire time without the need for local anesthesia!
Ozone Injections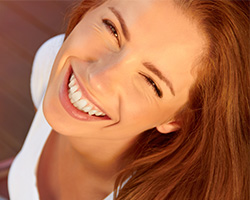 Ozone, when strategically injected into the skin, can lift, firm, tone, and even diminish small wrinkles located on the forehead and around the eyes, lips, nose, and jaw. The treatment itself only takes a few minutes to complete, and thanks to the natural properties of ozone, no anesthetic is even needed to make it entirely painless! Now, you can get a smoother, younger looking face to go with your gorgeous smile, all using the holistic approach you've come to trust.