Restorative Dentistry Rebuilds Broken Smiles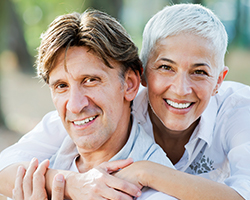 Problems like chipped, cracked, broken, decayed, and missing teeth are all very common, even for people who take good care of their teeth! Fortunately for the residents of Weyauwega, these kinds of issues don't have to spell trouble for your oral health or appearance thanks to Dr. William Twohig. Due to his 20 years of experience practicing holistic dentistry, he'll be able to rebuild your damaged teeth in the most conservative and natural-looking way possible, making it seem like nothing bad ever happened to them. To start getting your complete smile back, contact us today for an appointment.
Dental Implants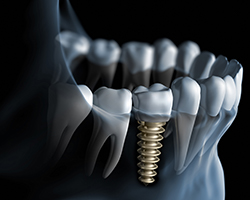 Dental implants are the most complete missing tooth solution available today, as they are the only restoration that replaces both the root and the crown of a tooth. They can be used to bring back any number of teeth, and we can even design them to support a full denture. Compared to any other treatment, they provide the most reliable, durable, and beautiful results by far. And, with the proper maintenance, they can easily be expected to last for 30 years or more.
Learn More About Dental Implants
Crowns & Bridges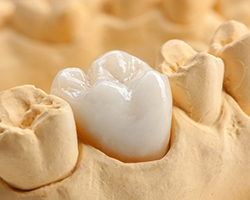 A dental crown is a tooth-shaped "cap" that is placed over a damaged, decayed, or weakened tooth in order to restore its strength and appearance at the same time. Our crowns are always made of the strongest and most natural-looking materials to give our patients a solution they can trust to last. Dental crowns can even be attached to additional prosthetic teeth to help fill in the gaps left by one or more missing ones. Both restorations take about two visits to get at our office.
Tooth-Colored Fillings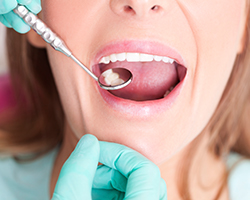 Tooth-colored fillings allow us to do two very important things that are impossible with traditional amalgam ones. One, repair small cavities without affecting the appearance of a tooth, and two, protect you from mercury exposure. Tooth-colored fillings are made of a composite resin, which is a non-toxic material that can also be specially shaded to perfectly match a patient's tooth color. It is a more conservative treatment that also yields better looking and longer lasting results.
Full & Partial Dentures
Dentures can provide a reliable solution for those who are suffering from significant tooth loss. Thanks to the latest advancements in dental prosthetics, modern-day dentures are now smaller, sleeker, and more comfortable than ever. Partial dentures can fill in the gaps left by missing teeth while fitting in comfortably with the remaining ones (like the piece of a puzzle), while full dentures can restore an entire row of missing teeth.
Learn More Dentures and Partials
Tooth Extractions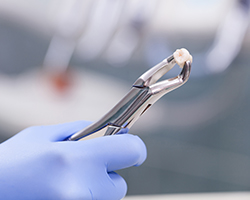 While our number one goal is to help our patients preserve all of their natural teeth for as long as possible, sometimes, the best thing we can do to protect someone's oral and overall health is to remove one. This is often the case if:
A tooth is too damaged to be restored
Gum disease has damaged the bone supporting a tooth
Room needs to be created for a denture/orthodontic treatment
The wisdom teeth have become painful, impacted (stuck), or infected.
Cavitation Surgery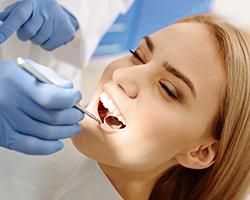 A cavitation is actually a hole that is created in a bone due to infection. They can sometimes form in the area where a tooth has been extracted, which can lead to a litany of unpleasant symptoms that affect much more than the mouth. Fortunately, Dr. Twohig knows exactly how to eliminate cavitations in order to relieve any associated discomfort.