Dental Implants – Weyauwega, WI
Enjoy a Complete Smile Once Again!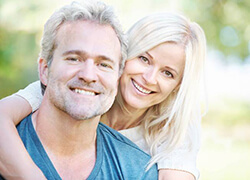 If you have missing teeth, then you know how difficult the challenges can be. Eating the foods you love, smiling with confidence and speaking clearly can all be a hurdle to overcome. What if there was a tooth replacement that looked and performed just like one of your natural teeth? There is! With dental implants, Weyauwega dentist Dr. Twohig can replace missing teeth with a prosthetic that mimics the entire structure of a tooth from root to crown.
Benefits of Dental Implants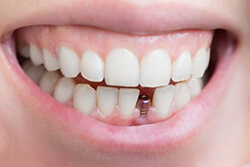 Why are dental implants superior to other choices such as a bridge or denture? Because a dental implant replaces an entire tooth from root to crown, it is the most lifelike tooth replacement available today. Therefore, you'll be able to eat all of your favorite foods, smile all the time without embarrassment and speak with enunciation. All the while, your prosthetic will remain firmly in place.
In addition, having an implant embedded in your jawbone just like a tooth root, helps to support your natural facial structure. When you are missing a tooth, there is no root to stimulate new bone tissue growth. Consequently, your jaw can begin to shrink, making your face look sunken and older. This can even happen with a denture or partial that only sits on top of your gums.
And unlike other prosthetics that must often be attached to other teeth in order to remain in place, dental implants are stand-alone devices.
Indications for Dental Implants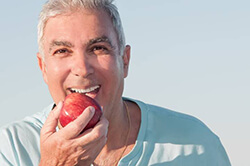 Millions of people are enjoying the benefits of dental implants right now and chances are you can, too! Whether you need to replace a single tooth or an entire arch, there is a prosthetic that can restore your complete smile.
Missing Single Tooth
If you are missing one tooth, then Dr. Twohig can position a single implant to support an implant-retained crown. This implant will be strategically positioned to take advantage of the greatest bone density at the site.
Learn More
Missing Multiple Teeth
For several missing teeth, Dr. Twohig can fashion a bridge. At least two implants will be needed at both ends of the bridge for proper support. Once in place, the bridge will blend in seamlessly with your other teeth.
Missing All Teeth
If you are missing all of your teeth along one arch, then an implant-retained denture can be the ideal solution. With this, you'll enjoy all the beauty of a natural looking denture and the security of dental implants.
Understanding the Cost of Dental Implants
Dental implants can cost a bit more than other tooth replacement options initially. However, because they last much longer than a removable bridge or denture, they can end up costing less over the long run. In fact, with good oral hygiene at home and regular dental checkups, your implants can last a lifetime. And with a 98 percent success rate, there's a very good chance that dental implants will give you a reason to smile for years to come!
Dental Implant Aftercare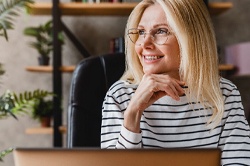 Once your dental implants are firmly in place, the next step is to ensure you take proper care of them moving forward. Designed to last decades or longer, you can enjoy a healthier, fully functional, and beautiful smile for the rest of your life, but you must maintain optimal dental implant care in Weyauwega. Fortunately, Dr. Twohig and his team are here to provide helpful tips to ensure the longevity of your new smile. If you have questions or concerns, please don't hesitate to contact our team.
Dental Implant FAQs
Making the decision to replace your missing teeth with dental implants in Weyauwega is one that comes with much thought and consideration. Dr. Twohig understands there are many things a patient must factor when it comes to choosing this type of treatment, which is why he and his team are pleased to provide a list of some of the most frequently asked questions about dental implants for you to review. Should you have any additional questions when you are finished, don't hesitate to contact our office.
How long do dental implants last?
Dental implants are designed to last decades or longer with proper care and treatment. This is one of the many great benefits of replacing your missing teeth in Weyauwega with dental implants. Unlike a traditional bridge or dentures that require frequent adjustments or replacements, dental implants can last a lifetime. It is important to know that the restoration on top of your implant will likely need to be replaced over time, but the implant should not.
Can I eat my favorite foods with dental implants?
Yes! Because your dental implant should look and feel completely natural, it will function just like a normal tooth. With daily wear and tear experienced while eating, your dental implants are made in a way that allows for this type of pressure. While there are some foods you should avoid with or without implants (i.e. ice, hard candies, popcorn kernels), much of the favorite items you love can easily be enjoyed while sporting your new and improved, fully restored smile.
Can I get dental implants if I smoke?
While dental implants have an extremely high success rate for placement, one way to ensure a dental implant failure is with smoking and tobacco use. When choosing to smoke, your immune system weakens, making it harder for your body to heal. Since osseointegration is such an integral part of the process, the bone must properly fuse with the implant. If your body's immune system is unable to effectively heal or fight off infection, there's a great risk that your implant will not fuse with the bone, resulting in a loose post and potential failure, as it will likely fall out.
What should I do during recovery?
In order to effectively and safely heal during your recovery phase, there are a few steps you should remember:
Avoid touching the wound(s) and do not spit or rinse your mouth the day of your surgery.
While swelling is normal, you will need to apply an ice pack or cold compress for the first 48 hours.
Bleeding should be controlled with gauze. Applying it for 30 minutes can help to slow it down, but if it continues, you will need to contact us immediately.
You'll need to drink plenty of fluids but avoid anything hot (food or beverage).
Consume only soft foods on the day of surgery.
Take pain medication as prescribed and if necessary, use an over-the-counter pain reliever to reduce discomfort.
Maintain good oral hygiene after your surgery. A warm saltwater rinse can also help to cleanse your mouth.