Dental Implants — Weyauwega WI
Enjoy a Complete, Confident Smile Once Again!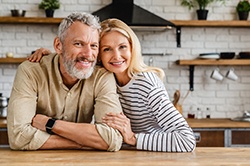 No matter how many teeth you're missing, tooth loss can make everyday life more challenging. Eating the foods you love, smiling with confidence, and speaking clearly can all become a hurdle to overcome. What if there was a tooth replacement that looked and performed just like one of your natural teeth? There is! With dental implants in Weyauwega, Dr. Twohig can replace missing teeth with a prosthetic that mimics the entire structure of a tooth from root to crown. If you're ready to enjoy a complete, confident smile once again, give us a call today to schedule your dental implant consultation.
Why Choose Dr. William Twohig For Dental Implants?
Dental Implant Placement & Restoration Completed Under 1 Roof
Talented Dentist with Over 40 Years of Experience
Dental Insurance Welcome & Flexible Financing Options Available
What Are Dental Implants?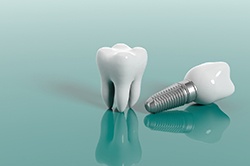 If you're looking for the next best thing to a natural tooth to rebuild your smile, there's no better option than dental implants. Other tooth replacement options like dentures and dental bridges only replace missing teeth above the gumline, doing nothing to replace the roots. On the other hand, dental implants are small titanium posts designed to replace missing root structures by being inserted directly into the jaw. This provides a strong, reliable, and lifelike foundation for the beautiful, custom-made replacement tooth or teeth the implant supports. When you replace the entire structure of a missing tooth with dental implants, you regain a smile that looks, feels, and functions just like natural!
The 4 Step Dental Implant Process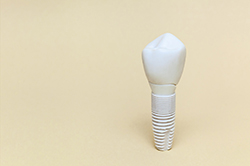 The entire process of receiving dental implants can take time, but it's certainly worth it once you see the results. It is true that no two patients are alike, but the steps each person takes are the same. From the initial consultation to the dental implant surgery and recovery to the final placement of the customized restoration, let's spend a few moments learning how dental implants work in Weyauwega so you can be better prepared for what is to come.
Initial Dental Implant Consultation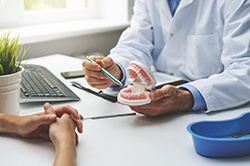 Initially, you will have a consultation with Dr. Twohig about your overall tooth replacement goals. During this appointment, he will evaluate your oral and overall health to ensure you are an ideal candidate for dental implant placement. He will also examine your jawbone to determine the level of density it possesses. Depending on his findings, he may recommend you for preliminary treatments (i.e., periodontal therapy, tooth extraction, or bone grafting). Then he will work with you to craft a personalized treatment plan, including how many dental implants you'll need, the type of restoration, and the estimated cost.
Dental Implant Surgery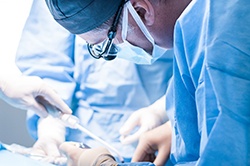 Next will be your dental implant placement surgery. Your implant dentist in Weyauwega will begin by administering local anesthesia to ensure you are numb and do not feel any pain throughout your procedure. He will then continue by making one or more small incisions in your gums to expose the jawbone. Carefully, each implant will be surgically placed into the bone in precise, pre-determined locations. When finished, he will close the gum tissue.
Dental Implant Osseointegration/Abutment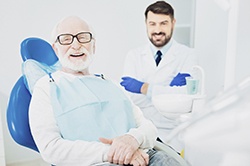 It will be necessary for you to spend several months at home healing and allowing a process known as osseointegration to occur. This is when the implant fuses to the bone and surrounding tissues. Because this can take between 3 and 6 months, you will need to follow specific instructions to ensure you heal properly. When ready, you will then return to receive your abutments which will connect your implant with the restoration.
Delivery of Dental Implant Restorations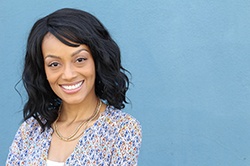 Once you've completely healed, you'll return to our office to have the custom-made dental crown, bridge, or denture attached to your dental implants. Your new restoration will match the size, color, and shape of your natural teeth, giving you a seamless smile. This is, of course, the most exciting part of the process because you can begin to enjoy and experience life with a full, complete smile once again. You can expect Dr. Twohig to provide some instructions regarding how best to maintain your new teeth to prevent implant failure in the future.
Benefits of Dental Implants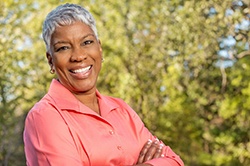 Dr. William Twohig and our team understand the many advantages of dental implants, but you may have many questions or potential concerns. When comparing these prosthetics to others, having a good understanding of what you can expect is important, which is why we have compiled some of the greatest benefits of dental implants for you to review.
Day-to-Day Benefits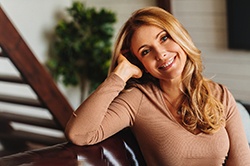 Ability to enjoy your favorite foods without worry that your teeth will slip or fall out.
Improved functionality when speaking, chewing, and eating, giving you the confidence you need to feel good about the quality of your smile.
Completely natural in appearance and feel, as the implant's restoration will match the color, size, and shape of your regular teeth.
Easy to clean and maintain with only a toothbrush, dental floss, and an ADA-approved mouthwash.
Health Benefits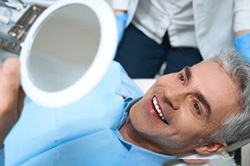 Improved oral health because of the implant's ability to restore the entire tooth structure from the root up.
No chance of decay and minimal maintenance in order to keep your dental implant healthy.
Standalone replacement option that doesn't rely on existing tooth structure or the gums, unlike fixed bridges that require altering healthy, natural teeth.
No concern for dental drift because of how the posts fill in the gap and keep healthy teeth in their proper place.
Long-Term Benefits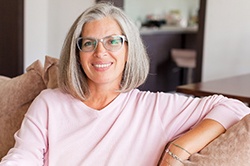 A highly successful treatment option with a 95% success rate upon initial placement when put into position by a trusted implant dentist.
A longer-lasting restoration that can have you enjoying your smile for decades or even a lifetime.
Less expensive in the long run simply because you do not need regular adjustments or replacements, nor do you need denture adhesives, which can add up over time.
Who Dental Implants Can Help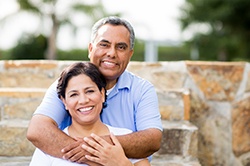 One of the greatest aspects of dental implants is that almost anyone can receive them! As a dental implant dentist in Weyauwega, Dr. Twohig understands the difficulties that can come with tooth loss. Treating patients who are missing any number of teeth, he carefully examines each smile, considering various factors to determine who is immediately eligible for treatment as well as those who might require preliminary care before moving forward with dental implants. No matter your situation, we can help you achieve the smile you deserve. We invite you to contact us with any questions or concerns you might have.
Who Is a Good Candidate for Dental Implants?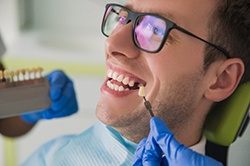 As long as you are healthy and missing one or more teeth, there is a good chance you can receive dental implants in Weyauwega. When examining your oral cavity, you can expect Dr. Twohig to consider these factors:
Your Oral Health – If you have any signs of gum disease or tooth decay, it will be necessary for you to undergo preliminary treatment (i.e., periodontal therapy, tooth extraction), as these issues could interfere with the success of your implant placement.
Your Overall Health – If you are healthy enough to undergo minor oral surgery, you will be given the green light to move forward with treatment.
Jawbone Density – As long as you have enough jawbone to adequately support your implants and customized restoration, you will be able to receive dental implants. If not, you will need to undergo a bone grafting procedure to create a more structurally sound foundation.
After reviewing these three factors, you may feel as if there is no way you'll be eligible, but don't throw in the towel. Dr. Twohig is a professional who will closely examine your smile and make the appropriate recommendations to help you take the next step toward dental implants.
Considered the gold standard for tooth replacement, these permanent prosthetics are designed to treat all types of tooth loss, such as:
Missing 1 Tooth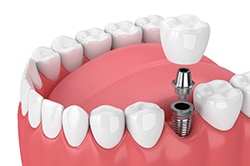 Using a single implant post, Dr. Twohig can easily replace your missing tooth and restore your smile. Missing even one tooth can drastically change the way you eat, speak, and smile, so with the help of a biocompatible implant and customized dental crown, we can mimic the natural tooth structure and continue to stimulate your jawbone, allowing you to enjoy a more youthful appearance for decades or longer.
Missing Multiple Teeth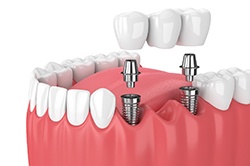 If you have two or more consecutive teeth missing in a row, Dr. Twohig can place an implant bridge that will eliminate the unnecessary gap in your smile. Instead of relying on a fixed bridge that uses your natural teeth as anchors, we can place two implant posts into the outer sockets before securing a bridge made from multiple dental crowns on top. Not only will this restore functionality and aesthetics, but it will allow you to keep more of your natural tooth structure that would have been used for a traditional fixed bridge. If the teeth that are missing are not consecutive, we can place the appropriate number of implants along your arch before crafting a partial denture that will be secured into place.
Missing All Teeth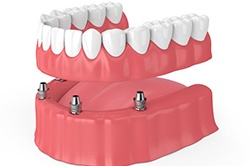 An entire row of missing teeth can be easily restored with the help of implant dentures. Instead of relying on the traditional prosthetics that only sit on top of the gums and tend to slip when eating or speaking, an implant denture uses between 4 and 6 implant posts to support your customized denture. Not only will this allow you to embrace a better quality of life because of the greater functionality you'll have when eating your favorite foods and speaking to friends and family, but you'll save money in the long run by avoiding frequent adjustments and replacements as well as countless dollars on dental adhesives.
Learn More About Implant Dentures
Understanding the Cost of Dental Implants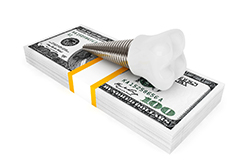 When choosing dental implants to replace your missing teeth, you may begin to wonder how much this tooth replacement solution will cost. It's no secret that they are more costly than your traditional prosthetics (i.e. crown and bridge, partial and full dentures), but the benefits they offer make them a much more cost-effective option. Dr. William Twohig and his team believe you should never have to forgo treatment because of cost, which is why a complete cost estimate will be provided during your consultation. It is at this time that you can speak with one of our team members about financing options and dental insurance to determine how best to manage the cost of treatment. Read on to learn more about the cost of dental implants in Weyauwega.
Are Dental Implants Worth the Investment?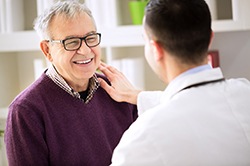 If you were to ask many of the satisfied clients who have received dental implants in Weyauwega, WI, you would clearly see just how beneficial this type of treatment can be for someone with missing teeth. Not only does it give you back the confidence you may have lost by improving your smile's aesthetic, but it also enables you to enjoy a longer-lasting smile that is easy to maintain for decades or longer.
Does My Dental Insurance Cover Dental Implants?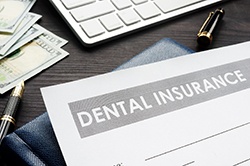 Although some dental insurance companies are becoming more open to the idea of covering dental implants, many continue to view this type of restorative dentistry as a "want" and not a "need." If your plan does not cover the cost of placement, you might consider looking into what other aspects of treatment they will cover, such as the:
Initial consultation
Anesthesia
Custom restoration
Dental Implant FAQs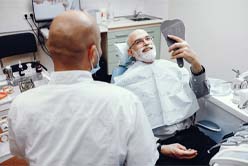 Making the decision to replace your missing teeth with dental implants in Weyauwega is one that comes with much thought and consideration. Dr. Twohig understands there are many things a patient must factor when it comes to choosing this type of treatment, which is why he and his team are pleased to provide a list of some of the most frequently asked questions about dental implants for you to review. Should you have any additional questions when you are finished, don't hesitate to contact our office.
How long do dental implants last?
Dental implants are designed to last decades or longer with proper care and treatment. This is one of the many great benefits of replacing your missing teeth in Weyauwega with dental implants. Unlike a traditional bridge or dentures that require frequent adjustments or replacements, dental implants can last a lifetime. It is important to know that the restoration on top of your implant will likely need to be replaced over time, but the implant should not.
Can I eat steak, apples, and nuts with dental implants?
Yes! Because your dental implant should look and feel completely natural, it will function just like a normal tooth. With daily wear and tear experienced while eating, your dental implants are made in a way that allows for this type of pressure. While there are some foods you should avoid with or without implants (i.e., ice, hard candies, popcorn kernels), much of the favorite items you love can easily be enjoyed while sporting your new and improved, fully restored smile.
Can I get dental implants if I smoke?
While dental implants have an extremely high success rate for placement, one way to ensure a dental implant failure is with smoking and tobacco use. When choosing to smoke, your immune system weakens, making it harder for your body to heal. Since osseointegration is such an integral part of the process, the bone must properly fuse with the implant. If your body's immune system is unable to effectively heal or fight off infection, there's a great risk that your implant will not fuse with the bone, resulting in a loose post and potential failure, as it will likely fall out.
What is an alternative to titanium dental implants?
An alternative to traditional titanium dental implants is Zirconia, which is metal-free and reflects your natural tooth color. This natural alternative reduces the risk for corrosion, mercury-exposure, and it prevents possible allergic reactions among patients. Not only are Zirconia implants biocompatible and hypoallergenic, but they look and feel completely natural and can result in less plaque buildup in the future.
What should I do during recovery?
In order to effectively and safely heal during your recovery phase, there are a few steps you should remember:
Avoid touching the wound(s) and do not spit or rinse your mouth the day of your surgery.
While swelling is normal, you will need to apply an ice pack or cold compress for the first 48 hours.
Bleeding should be controlled with gauze. Applying it for 30 minutes can help to slow it down, but if it continues, you will need to contact us immediately.
You'll need to drink plenty of fluids but avoid anything hot (food or beverage).
Consume only soft foods on the day of surgery.
Take pain medication as prescribed and if necessary, use an over-the-counter pain reliever to reduce discomfort.
Maintain good oral hygiene after your surgery. A warm saltwater rinse can also help to cleanse your mouth.
Dental Implant Post-Op Instructions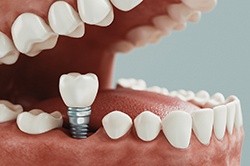 To heal after dental implant surgery effectively and safely, Dr. Twohig will provide you with a set of dental implant post-op instructions so that you can be sure that your smile remains healthy for optimal healing. Abiding by these guidelines will help you avoid the potential of dental implant failure and instead, look forward to a longer-lasting, beautiful smile.
What to Do Directly After Dental Implant Surgery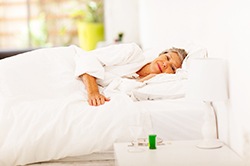 You should expect to spend the remainder of the day resting. You'll likely be groggy after your procedure, as it will take time for the anesthesia to wear off. However, as you notice that the effects are waning, make sure to take an over-the-counter pain reliever or any prescribed medication provided by your implant dentist. This will help to stave off any discomfort you can expect to feel after your surgery.
In the initial 24 hours after your procedure, you'll also want to avoid smoking, using any kind of tobacco products, or drinking alcohol. Your body's immune system needs time to recover, and these bad habits will not be beneficial in that effort.
Common Side Effects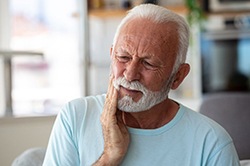 Once your dental implants are in place, you can expect there to be some swelling, bleeding, and bruising that forms. This is natural and should not be cause for alarm. Over time, the swelling will go down, and the bleeding will cease. You'll also notice that the bruising will fade.
You can use a cold compress to alleviate discomfort and inflammation, but if you discover that swelling increases or bleeding does not cease, make sure to call our office right away.
Diet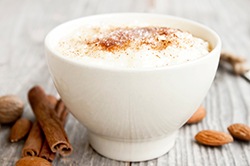 Some patients crave hearty meals after dental implant surgery, while others prefer nothing at all. Initially, you'll want to make sure you stick to a liquid diet. This will prevent any pressure from being placed on your posts and jawbone. As the days pass and the discomfort lessens, you can begin to incorporate soft foods like some of the following:
Pasta
Scrambled eggs
Yogurt
Ice cream
Warm soup
Mashed potatoes
As you notice your mouth becoming more "normal" and less swollen and tender, solid foods can be added to your diet. You'll just need to allow enough time to pass so that the posts properly fuse with the jawbone for optimal stability.
Health & Oral Hygiene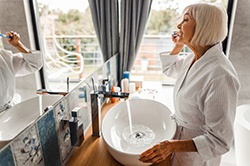 Caring for your new teeth and gums is essential. This is why you must maintain good oral hygiene even during your post-op phase of treatment. While you do not want to brush or floss the day of your procedure, you can after an initial 24 hours have passed. You'll just need to be careful when cleaning around your surgical sites, and do not rinse with an antimicrobial mouthwash. Instead, gently rinse your mouth with a mixture of warm salt water, as this will not only flush out harmful bacteria but also encourage faster healing.
What to Do After Your New Teeth Are Attached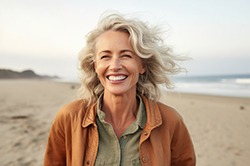 Some slight sensitivity is normal once your new teeth are put into place, so do not be alarmed. This will dissipate within a few short days. Other than that, you can begin to enjoy your new smile and all of its many great benefits.
Dental Implant Failure & Salvage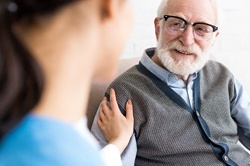 Although it is highly unlikely you will experience a failed dental implant in Weyauwega, there is always a chance that problems can occur. Poor oral hygiene, infection, or even severe facial trauma are all ways your dental implants can experience serious complications. But fortunately, with the help of Dr. Twohig and his team, they can implement dental implant salvage to save and restore your smile. If you begin to notice that your implant feels loose or pain begins to form around your implant, make sure to call our office as soon as possible.
Learn More About Dental Implant Failure and Salvage
Maintaining & Caring for Your Dental Implants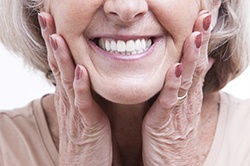 Once your dental implants are firmly in place, the next step is to ensure you take proper care of them moving forward. Designed to last decades or longer, you can enjoy a healthier, fully functional, and beautiful smile for the rest of your life, but you must maintain optimal dental implant care in Weyauwega. Fortunately, Dr. Twohig and his team are here to provide helpful tips to ensure the longevity of your new smile. If you have questions or concerns, please don't hesitate to contact our team.
Make Oral Hygiene a Priority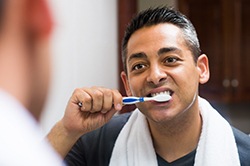 Whether you had one, multiple, or all your teeth replaced with dental implants, you must adhere to a good oral hygiene routine. Although your implants cannot decay, it is your natural teeth and gum tissue that you must make sure to properly clean, as tooth decay and gum disease can not only negatively impact your healthy teeth but also your dental implants.
To help you take better care of your new teeth, make sure you are:
Using a soft-bristled toothbrush to clean all surfaces of your teeth. You'll also want to brush your tongue to remove any bacteria on its surface. Do this for two full minutes twice a day.
Floss between your teeth and around your metal abutments to ensure no bacteria or debris is forming that could attack your gum tissue.
Do not use abrasive toothpaste, as it can scratch your restoration and cause it to no longer match the rest of your smile.
Rinse with an ADA-approved mouthwash to remove anything left behind brushing and flossing missed.
Eat a Healthy Diet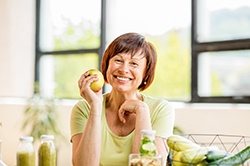 Dental implants in Weyauwega may give you the green light to enjoy all the foods you love, but it's important that you be mindful of what you're eating whether you have natural or artificial teeth. Too much sugar and starch can cause plaque and harmful acids to form and eat away at your natural tooth enamel and attack your gum tissue. This is why you must choose healthier alternatives like lean proteins, leafy greens, fruits and vegetables, and low-fat dairy to incorporate into your daily diet. You'll also want to be careful not to bite into hard objects, as these can damage your implants. Instead, cut up larger foods into smaller pieces.
Break Bad Habits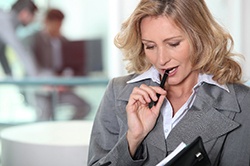 If you are prone to nail-biting, chewing on ice or inanimate objects, or using your teeth as tools to open packages and containers, it's time to stop. You may be surprised at how strong your implants are, but they're not immune to damage. Any of the above-mentioned bad habits can easily break, chip, or fracture a real or artificial tooth, forcing you to spend more time and money trying to fix the problem. If you also smoke or use tobacco products, you'll want to find a way to kick the habit. Not only can this bad habit inhibit your implant's ability to fuse properly with bone and tissue, but it can raise your risk for implant failure should your body develop an infection and be unable to fight it off.
Protect Your Dental Implants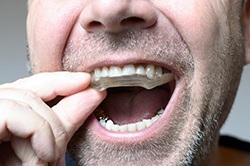 Whether it is engaging in your favorite sport or combatting the stress that often leads to teeth grinding at night, ask Dr. Twohig about a custom mouthguard to protect your teeth. From a sudden fall on the track to grinding your teeth while you sleep, the immediate trauma and wear and tear can shorten the lifespan of your implants. However, with a custom-made mouthguard, you can rest easier knowing your natural and artificial teeth are fully protected should you endure a hard-hitting impact or stressful workday. Unlike store-bought mouthguards, those that are custom-made are fabricated based on impressions taken of your smile, ensuring it fits comfortably and offers maximum protection.
Schedule Regular Dental Checkups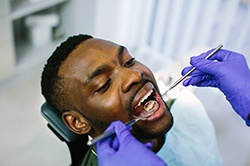 You may not think it's necessary to continue seeing your dentist after receiving dental implants, but that is simply not true. Dr. Twohig's examinations do not solely consist of looking at your natural teeth and gum tissue. It also includes checking your restorations for any signs of damage as well as making sure you are showing no symptoms associated with oral cancer. By keeping your six-month dental checkups and cleanings, you can feel more confident that your dental implants will be around for years to come.