Dental Implants – Weyauwega, WI
Enjoy a Complete Smile Once Again!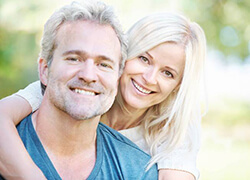 If you have missing teeth, then you know how difficult the challenges can be. Eating the foods you love, smiling with confidence and speaking clearly can all be a hurdle to overcome. What if there was a tooth replacement that looked and performed just like one of your natural teeth? There is! With dental implants, Weyauwega dentist Dr. Twohig can replace missing teeth with a prosthetic that mimics the entire structure of a tooth from root to crown.
Benefits of Dental Implants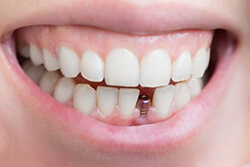 Why are dental implants superior to other choices such as a bridge or denture? Because a dental implant replaces an entire tooth from root to crown, it is the most lifelike tooth replacement available today. Therefore, you'll be able to eat all of your favorite foods, smile all the time without embarrassment and speak with enunciation. All the while, your prosthetic will remain firmly in place.
In addition, having an implant embedded in your jawbone just like a tooth root, helps to support your natural facial structure. When you are missing a tooth, there is no root to stimulate new bone tissue growth. Consequently, your jaw can begin to shrink, making your face look sunken and older. This can even happen with a denture or partial that only sits on top of your gums.
And unlike other prosthetics that must often be attached to other teeth in order to remain in place, dental implants are stand-alone devices.
Indications for Dental Implants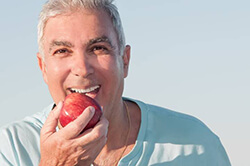 Millions of people are enjoying the benefits of dental implants right now and chances are you can, too! Whether you need to replace a single tooth or an entire arch, there is a prosthetic that can restore your complete smile.
Missing Single Tooth
If you are missing one tooth, then Dr. Twohig can position a single implant to support an implant-retained crown. This implant will be strategically positioned to take advantage of the greatest bone density at the site.
Missing Multiple Teeth
For several missing teeth, Dr. Twohig can fashion a bridge. At least two implants will be needed at both ends of the bridge for proper support. Once in place, the bridge will blend in seamlessly with your other teeth.
Missing All Teeth
If you are missing all of your teeth along one arch, then an implant-retained denture can be the ideal solution. With this, you'll enjoy all the beauty of a natural looking denture and the security of dental implants.
Understanding the Cost of Dental Implants
Dental implants can cost a bit more than other tooth replacement options initially. However, because they last much longer than a removable bridge or denture, they can end up costing less over the long run. In fact, with good oral hygiene at home and regular dental checkups, your implants can last a lifetime. And with a 98 percent success rate, there's a very good chance that dental implants will give you a reason to smile for years to come!