Biomimetic Dentistry – Weyauwega, WI
Natural Solutions for Healthier Smiles
Dr. William Twohig is a holistic dentist in Weyauwega who believes in treating more than just your smile. Committed to providing patients with a whole-body wellness approach, he chooses to avoid the use of metals and instead, opts for more natural solutions that can benefit both the mouth and body. As part of this holistic approach, he uses biomimetic dentistry to treat the natural structures in the mouth through a process of replication rather than replacement. If you're looking to learn more about this unique form of dentistry, contact us to schedule an appointment with Dr. Twohig today.
What is Biomimetic Dentistry?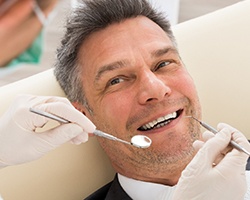 Biomimetic dentistry is a holistic form of treatment that uses a natural approach to treating problems of the mouth. Instead of relying first and foremost on alternative tooth replacements, prosthetics, or restorations, Dr. Twohig incorporates the use of specialized therapies to repair, rebuild, and restore a patient's smile.
Far more conservative than using dental crowns or bridges to repair broken or decayed teeth, biomimetic dentistry minimizes the need for minor and major restorative services (i.e., root canal therapy) by helping to keep as much of the natural tooth structure as possible, stopping the spread of decay, and restoring a person's tooth biomechanics.
How Does it Differ from Traditional Dentistry?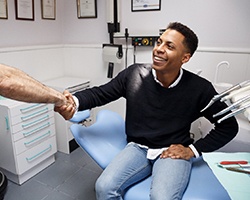 Unlike traditional dentistry that requires removing healthy tooth structure to repair and replace decayed and broken teeth, biomimetic dentistry offers another route. The former often requires incorporating outside, foreign materials to ensure a person's tooth is fully functional; however, by preserving the natural tooth using biomimetic dentistry, Dr. Twohig can use restorative therapies to mimic the tooth and preserve more of the natural structure.
In fact, instead of simply cutting our decayed portions of a person's tooth in preparation for a dental crown, he will instead use trusted techniques to stop the spread of harmful bacteria that is causing the decay, preserve as much natural tooth structure as possible, and use composite resin, which can be matched to your normal tooth color, to fill and seal off the tooth from future reinfection. This not only creates a tight bond but also replaces missing portions of the tooth.
Essentially, the mindset of biomimetic dentistry is "less is more."
What Are Its Benefits?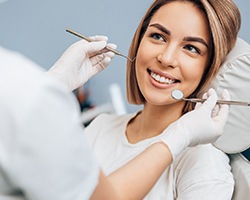 Although most dental offices do not offer this type of dentistry, you will find there are many great benefits that come with not only choosing a holistic dentist but also pursuing biomimetic dentistry. If you are looking to receive treatment that focuses more on natural therapies and solutions instead of reaching for the most convenient and "easy" option, you'll be pleased to learn that biomimetic dentistry offers:
A decreased risk of substantial complications and failures that commonly occur with traditional dentistry
A way to restore teeth that would normally require more complex restorative solutions (i.e., root canal treatment)
A way to experience minimal sensitivity and post-procedure pain
A reduction in root canal treatments by 90-95%
Patients the ability to keep more of their natural tooth structure, even in instances when a dental crown is necessary
Greater bond strength
A minimally invasive approach to treating decayed and damaged teeth