Porcelain Veneers in Weyauwega
One of the most popular cosmetic dentistry procedures is porcelain veneers. Why? Because by simply covering imperfect teeth, you can have a perfect smile after only two appointments. Where there used to be unsightly teeth, there can now be white, well-formed and perfectly straight teeth. Using porcelain veneers in Weyauwega, Dr. Twohig has transformed the smiles of many people in the area and he can do the same for you!
What are Porcelain Veneers?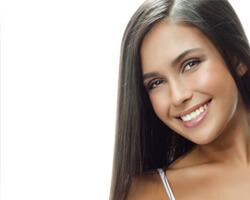 Whether they are called porcelain veneers, dental veneers or just veneers, the benefits are all the same: teeth that are more attractive so your smile makes you happy and confident.
Veneers are made of a paper-thin—but very strong—pieces of fine dental porcelain that are adhesively bonded to the facial side of your teeth. Of course, your natural teeth are still there, acting as supports for the veneers. Therefore, a strict at-home oral hygiene routine is a must to ensure the health of your new smile. Daily brushing and flossing, as well as regularly schedule dental checkups, are essential to ensuring your oral health when you have veneers, as well as the appearance and longevity of your new smile.
Who is Good Candidate for Porcelain Veneers?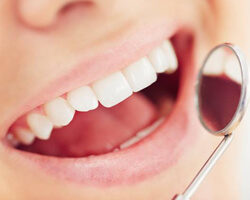 Most people are qualified to have porcelain veneers. However, your cosmetic dentist in Weyauwega will want to conduct an oral examination first to ensure your overall oral health before placing veneers. The dentist will check for signs of cavities and periodontal disease, either of which will need to be addressed before any type of cosmetic dentistry plan begins.
Porcelain veneers are often suggested for moderate cosmetic concerns, such as chipped, slightly cracked or broken teeth. Other cosmetic flaws that veneers can conceal include teeth that are misshaped or too small, as well as teeth that have gaps between them.
How Do I Get Porcelain Veneers?
Porcelain veneers can usually be placed in just two appointments. At the first, your teeth are prepped. Dr. Twohig must slightly reshape and resize your teeth in order to make room for the veneers. To do this, he removes a very slim layer of enamel. After this step, you'll be given a temporary set of acrylic veneers. These protect your prepared teeth and give you the chance to adjust to the feeling of veneers in your mouth.
When your handcrafted porcelain veneers arrive from the lab, you'll return to see Dr. Twohig so he can bond them to your teeth.
With a little extra care, you can expect your new porcelain veneers to last for about 10 years before they need replacement. You can help extend the longevity of your smile by not using your front teeth to bite hard foods such as raw carrots, nuts and ice. This way, you'll enjoy your beautiful for many years!
Benefits of Veneers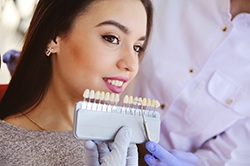 When considering veneers to transform your smile, you may wonder about the unique benefits they provide. After all, there are other cosmetic solutions available that can change the appearance of your pearly whites, right? While this may be true, you cannot achieve the same level of improvement with any other treatment, especially if you want to change the size, shape, and color of your smile.
The following are just a few of the many benefits you can expect to receive with veneers:
They are natural in appearance, so you don't have to worry about bulkiness or your smile appearing fake
They can last 10-15 years as long as you commit to taking proper care of them
They are created using only the best materials, making them stain-resistant and highly durable
They are capable of concealing an array of flaws, including chips, cracks, stains, discoloration, misshapen teeth, gaps, and even slight misalignment
They are easy to maintain so you don't have to purchase several products just to keep them looking their best
Porcelain Veneers FAQs
Dr. Twohig is a cosmetic dentist in Weyauwega who believes in helping patients achieve lasting, beautiful results. Should you arrive to inquire about porcelain veneers, you can expect him to first make you aware that these are a permanent solution. This is important to know in case you are looking for a reversible cosmetic option. But if you are undeterred and wish to move forward, it is imperative that you ask questions and receive honest, transparent answers, which he happily provides below. We invite you to review the following questions and determine if there is any additional information you would like before beginning treatment. Contact our office to schedule an appointment today.
If I do not have veneers placed on all my teeth, how can I be sure that they will match?
It is often recommended that if you do not plan to have veneers placed on all your teeth you undergo teeth whitening to make sure all your teeth will match. Choosing to have veneers placed beforehand can lead to these teeth standing out among the rest of your natural teeth. As a result, you may be unhappy with the overall results. During your initial consultation with Dr. Twohig, make sure to express what it is you want for your entire smile. Even if he recommends veneers, you might also try teeth whitening to make sure your teeth appear the same shade.
What can I do to ensure a longer lifespan for my veneers?
Every patient who receives veneers in Weyauwega cannot expect their veneers to last as long as someone else's. Why? Because each person is different, and it is ultimately up to how well you take care of your new teeth to determine how long they will last. On average, veneers that are regularly cared for can last 10-15 years, but you must maintain them by:
Taking care of your oral health by brushing twice a day with a soft-bristled toothbrush for two minutes and flossing between your teeth before bed
Rinsing with an antimicrobial mouthwash
Keeping your six-month dental checkups and cleanings with Dr. Twohig
Wearing a mouthguard if you play sports or suffer from bruxism
Avoiding foods that are hard or crunchy, as they can damage real and artificial teeth
Ceasing the use of tobacco products and/or smoking
Not using your teeth to open packages or containers
Can veneers stain over time?
While it is true that the porcelain used to create veneers is much more stain-resistant than traditional tooth enamel, it is possible for it to stain and become discolored over time. This is why it is important that you take proper care of your veneers to ensure they remain healthy and natural-looking for as long as possible. Avoiding dark-colored beverages, smoking, hard brushing, using abrasive toothpaste, or highly-acidic beverages or foods will help to keep your veneers strong and beautifully white. Although you will need to have them replaced in time because of regular wear and tear, you should be mindful to watch what you eat and how you use your new teeth.
How will I know how many veneers to receive?
Ultimately, the decision is yours, but during your consultation with Dr. Twohig, he will happily provide a recommendation for how many veneers you should receive. Many patients opt to have their entire mouth treated while others choose to only have veneers placed on visible teeth. No matter how many you choose to have placed, you can expect that your veneers will look and feel completely natural when put into place.
How much do veneers cost?
We cannot determine how much your veneer treatment will cost until you come in for a consultation. Dr. Twohig and our team will evaluate your smile to note how many veneers you will need as well as if you require any preliminary treatment before moving forward with your new smile. Because we must consider the materials used as well as the number of veneers that must be placed, your cost estimate is likely to be very different from someone else. No matter what, our team will be here to talk you through the financial side of cosmetic dentistry so that you can better budget your expenses.
What can happen to my teeth underneath?
Many patients assume that they do not need to worry about their smile once their veneers are in place. This is not true and in fact, it is a dangerous mindset. Veneers only cover the front surfaces of teeth, which means that the existing structure underneath remains exposed from behind. As a result, bacteria and plaque can form over time, causing cavities and gum disease to develop. Should this happen, you will likely require restorative care to fix the problem. This, in turn, will lead to spending more money to address and improve your oral health as well as have new veneers put into place.
Will dental insurance cover the cost of my veneers?
No, it is highly unlikely that your dental insurance company will pay for the cost of your veneers, especially if you are only seeking them for aesthetic purposes. While there are situations where exceptions can be made (i.e., you need them as a medical necessity to improve an oral health issue), you'll need to find an alternative solution to pay for your treatment. Fortunately, Dr. Twohig partners with third-party financier CareCredit to help lower out-of-pocket expenses for patients.