Soft Tissue Laser – Weyauwega, WI
Advanced Laser Technology Means Better Care
It's a common theme of holistic dentistry to be as conservative as possible. The last thing Dr. Twohig wants to do is unnecessarily remove existing tooth or tissue structure, which are both valuable to your long-term oral health. That's why he's proud to offer patients a revolutionary technology that has been proven to make receiving dental care much easier. The Odyssey and Viau Soft Tissue Diode dental lasers are incredibly versatile, especially for those who care deeply about maintaining their oral health in a holistic way. If you're ready to experience a new level of dentistry, give our office a call today!
What is a Soft Tissue Laser?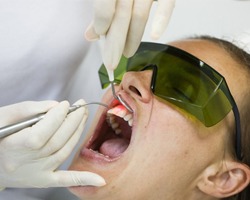 The soft tissue laser is an advanced device that uses light-based technology to perform basic dental treatments. Over the years, laser dentistry has grown in popularity not just because of its effectiveness, but due to its ability to improve the patient experience. Light energy replaces the need for scalpels, which as a holistic dentist Dr. Twohig is incredibly excited about. The laser vaporizes more precisely than metal dental tools, providing more accurate results. This process, known as ablation, specifically targets only tissue that we want to remove, making it easier to preserve as much of your original tissue as possible.
Upon contact, soft tissue lasers cauterize cuts right after they are made, and therefore reduce bleeding and prevent the need for sutures! Killing as much as 99 percent of bacteria, soft tissue lasers also reduce the risk of infection. Furthermore, their precision lowers the body's inflammatory response, which results in a faster healing time and less postoperative discomfort.
How Can a Soft Tissue Laser Help Me?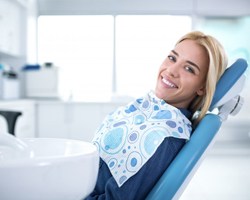 One of the most common treatments soft tissue lasers can perform is gum disease therapy. Scaling and root planing is much easier to perform, targets disease and bacteria more accurately and begins the natural healing process of that gum tissue simultaneously. Like root planing, it also promotes the reattachment of the gums to the tooth roots.
Another common treatment laser therapy can perform is gum recontouring. If too much gum tissue is covering your smile, the soft tissue laser can effectively remove enough to make your smile more even and aesthetically pleasing!
Additionally, the soft tissue laser is ideal for:
Ulcer and cold sore removal
Frenectomy/frenotomy
Pain relief caused by irritated soft tissue
Crown lengthening
Exposing teeth stuck underneath gum tissue (i.e. impacted teeth)
Experience the Benefits with Dr. Twohig Today!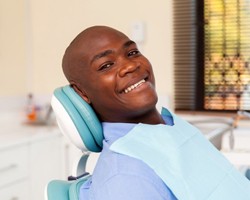 Overall, soft tissue laser technology is the future of dental treatment. When your goal is to maintain as much natural tooth and oral tissue structure as possible, laser technology makes the process possible. If you're curious about the technology or would like to utilize it for your next appointment, don't hesitate to contact our office today!