Weyauwega Partial & Full Dentures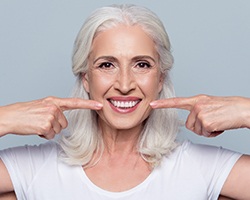 Following advanced tooth loss due to oral health struggles, whole body health conditions, or facial trauma, patients are typically dealing with stress, pain, and difficulty performing the smallest daily function like sharing a confident smile. At the Weyauwega dental office of William J. Twohig, DDS, we're here to help patients get the smiles back on their faces as quickly as possible. We offer a variety of tooth replacement options, including traditional partial and full dentures and implant retained prosthetics. If you're ready to get started, call our Weyauwega dentistry team to schedule a tooth replacement consultation.
Importance of Replacing Missing Teeth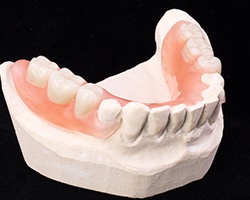 Whether you're missing one tooth or are fully edentulous (without teeth), it's essential to repair your smile to full, healthy function. When teeth are left unreplaced, patients struggle to speak clearly, consume a variety of foods, and smile with confidence. When tooth loss is extensive, patients may be restricted to soft foods or liquid diets.
What are Partial Dentures?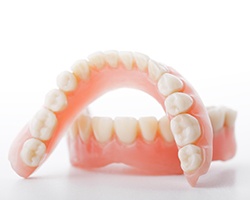 Partials are dentures that fill in spaces left by extensive tooth loss. These prosthetics can be crafted to replace any number of consecutive and nonconsecutive missing teeth. A gum-colored base material is formed to fit between remaining teeth. Replacement teeth are all supported by this base, and the entire prosthetic is held in place with clasps attached to healthy remaining teeth.
What are Full Dentures?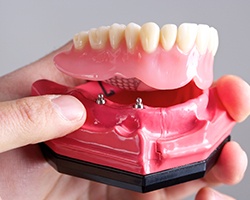 Full dentures are similarly crafted using a gum colored base to support the entire row of replacement teeth. Since there are no remaining teeth to provide support, the base is crafted to fit against the gum tissue, creating natural suction that will hold the denture in place. For added stability, some patients choose to use a small amount of denture adhesive.
What are Implant Dentures?
Implant dentures provide the ideal tooth replacement solution because they replace tooth roots as well as the missing teeth. Using just three to six implant posts, we can provide natural looking and feeling support for your denture. Patients with implant supported dentures will need to invest a greater amount of time and money in the beginning of their treatment plan, but these restorations offer increased stability and can last more than twice as long as traditional partial and full dentures.
Caring for Your Dentures
Patients with removable dentures should take them out before bed and carefully brush the denture to remove any food or plaque buildup. Store the denture in water or cleaning solution overnight. Always use cool water to clean your denture to avoid warping the base. If you have remaining healthy teeth, you should continue to brush and floss them as usual. If you have an implant supported partial or full denture, you should brush your denture and teeth as usual. To floss effectively, you may need to invest in a specialized flossing tool like an air or water flosser that can access harder to reach areas, especially to remove plaque and foods that can get stuck between the denture base and gum tissue. No matter what type of denture you choose, biannual dental appointment with our team are essential to keep your denture looking and feeling great.