Weyauwega Partial & Full Dentures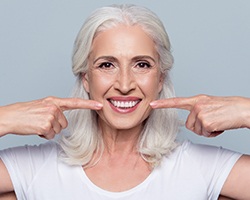 Following advanced tooth loss due to oral health struggles, whole body health conditions, or facial trauma, patients are typically dealing with stress, pain, and difficulty performing the smallest daily function like sharing a confident smile. At the Weyauwega dental office of William J. Twohig, DDS, we're here to help patients get the smiles back on their faces as quickly as possible. We offer a variety of tooth replacement options, including traditional partial and full dentures and implant retained prosthetics. If you're ready to get started, call our Weyauwega dentistry team to schedule a tooth replacement consultation.
Who's a Good Candidate for Dentures?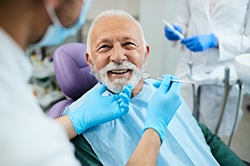 If you are faced with multiple missing teeth, or you are without an entire upper or lower arch, you'll find that dentures are often a great option for patients. As a tried-and-true solution that has helped countless individuals over the centuries, these prosthetics continue to provide great aesthetics while working similarly to regular teeth. When meeting with your denture dentist to discuss your options, you can expect to go through a thorough examination so that we can evaluate your oral and overall health as well as the density of your jawbone. This will help us determine how best to move forward.
Effects of Missing Teeth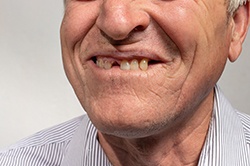 No one sets out to lose their teeth; however, when it happens, many side effects can occur as a result, such as:
Facial sagging and collapse
Jawbone resorption because of a lack of stimulation by tooth roots
Additional tooth loss because of a weakened jawbone
What Qualifies You for Dentures?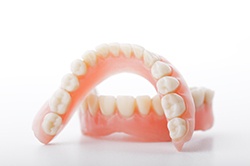 If a member of our team recommends you for dentures, it is likely because you are missing multiple teeth along a row, or you do not have any remaining healthy, natural teeth along an arch. Whether you require a partial or full denture is ultimately up to our team.
You should expect, though, for us to review your oral health to find out if there are any signs of periodontal disease or existing tooth decay. If so, we'll need to administer appropriate treatment to minimize further damage to your mouth and potential prosthetics. Also, if you are lacking enough bone support, we may recommend a bone graft to help boost the stability of your jawbone.
Alternative Tooth-Replacement Options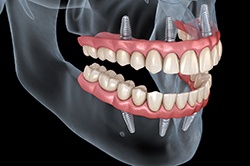 When meeting with a member of our team to discuss your future with dentures, you may discover there are alternative options that offer the same great results. These include:
Dental Bridges – Unlike dentures that are held into place with either metal clasps or suction, dental bridges use healthy teeth as anchors. With two dental crowns that fit over the natural abutment teeth on either side of the gap, the remaining pontics (artificial teeth) rest on top of your gums to complete the smile.
Dental Implants – Vastly different than dental bridges or dentures are dental implants. Made out of zirconia, these prosthetics serve to stimulate the jawbone and minimize the potential for facial collapse and additional tooth loss. Because they fuse with the existing bone tissues, they create a firm foundation that can last a lifetime with proper care. And combined with abutments that connect the implant to the restoration as well as a customized implant partial or implant denture, you can expect a longer-lasting smile that doesn't require frequent replacements or adjustments.
Importance of Replacing Missing Teeth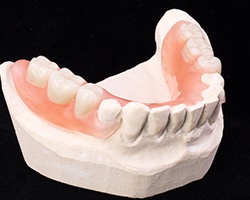 Whether you're missing one tooth or are fully edentulous (without teeth), it's essential to repair your smile to full, healthy function. When teeth are left unreplaced, patients struggle to speak clearly, consume a variety of foods, and smile with confidence. When tooth loss is extensive, patients may be restricted to soft foods or liquid diets.
What are Partial Dentures?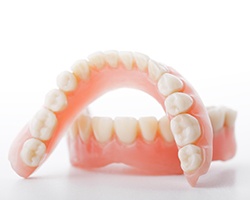 Partials are dentures that fill in spaces left by extensive tooth loss. These prosthetics can be crafted to replace any number of consecutive and nonconsecutive missing teeth. A gum-colored base material is formed to fit between remaining teeth. Replacement teeth are all supported by this base, and the entire prosthetic is held in place with clasps attached to healthy remaining teeth.
What are Full Dentures?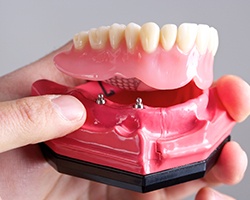 Full dentures are similarly crafted using a gum colored base to support the entire row of replacement teeth. Since there are no remaining teeth to provide support, the base is crafted to fit against the gum tissue, creating natural suction that will hold the denture in place. For added stability, some patients choose to use a small amount of denture adhesive.
What are Implant Dentures?
Implant dentures provide the ideal tooth replacement solution because they replace tooth roots as well as the missing teeth. Using just three to six implant posts, we can provide natural looking and feeling support for your denture. Patients with implant supported dentures will need to invest a greater amount of time and money in the beginning of their treatment plan, but these restorations offer increased stability and can last more than twice as long as traditional partial and full dentures.
Caring for Your Dentures
Patients with removable dentures should take them out before bed and carefully brush the denture to remove any food or plaque buildup. Store the denture in water or cleaning solution overnight. Always use cool water to clean your denture to avoid warping the base. If you have remaining healthy teeth, you should continue to brush and floss them as usual. If you have an implant supported partial or full denture, you should brush your denture and teeth as usual. To floss effectively, you may need to invest in a specialized flossing tool like an air or water flosser that can access harder to reach areas, especially to remove plaque and foods that can get stuck between the denture base and gum tissue. No matter what type of denture you choose, biannual dental appointment with our team are essential to keep your denture looking and feeling great.
Understanding the Cost of Dentures
The cost of dentures in Weyauwega is different for each person. No two cases are the same, which is why Dr. Twohig requires an initial consultation before determining the estimated price for treatment. When visiting with him to discuss the replacement of your teeth, he will consider various factors that will help establish how much you can expect to spend on your new smile. One important thing to remember is most dental insurance companies will pay a portion of the cost, but if you need help with any remaining balance, our team can point you in the right direction with regard to alternative methods of payment.
Factors That Affect the Cost of Dentures
When meeting with your denture dentist in Weyauwega, be prepared for him to carefully consider the following three factors before compiling a detailed cost estimate of your smile:
Do you have only a few missing teeth or an entire arch? This will determine if you need a partial or full denture.
Do you require preliminary treatments before receiving dentures? These can include periodontal therapy, tooth extraction, or even bone grafting.
What type of materials will be used to create your dentures? Typically, acrylic and porcelain are the most common.
As you review the estimated price tag of your dentures, you may wonder if there are cheaper ways to restore your smile. While some dentists may use less expensive materials, you must remember that you get what you pay for. Quality is essential if you want a prosthetic that lasts a long time.
Are Implant Dentures More Expensive?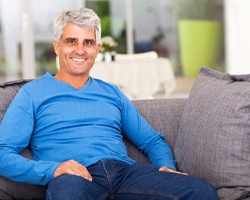 If you're thinking about implant dentures instead of their traditional counterpart, you should know that they are typically more expensive. The reason is that they must be surgically implanted into the jawbone for permanent placement. It is an invasive procedure, but it produces amazing benefits and results. From being able to eat your favorite foods to enjoying a smile that can last 30 years or more, dental implants are the only tooth replacement solution designed to restore the entire tooth structure from the root to the crown.
Does Dental Insurance Cover Dentures?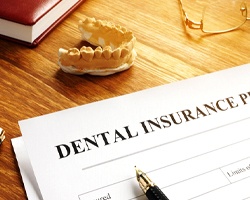 Most dental insurance companies provide available coverage for dentures in Weyauwega. Depending on your plan, whether you've met your deductible, and how much of your annual maximum remains, they may or may not pay the full 50% of your total cost. Fortunately, our dental team is here to help you maximize your available benefits and get the most out of your plan. We don't want you to walk away feeling as if you must empty your savings just to afford your new smile, which is why we will work on your behalf to help lower your out-of-pocket expenses.
Other Options for Making Dentures Affordable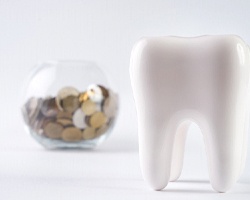 Even if you are left with a balance after filing with dental insurance, or if you are uninsured, Dr. Twohig is pleased to provide alternative payment options to lessen the financial burden that can often come with dental care. We offer flexible financing through CareCredit, which is a third-party financier. Offering low and zero interest payment plans, you can apply for a designated payback option and stay within your budget. This eliminates the fear and frustration that can come with attempting to find a way to pay for your new smile.
Dentures FAQs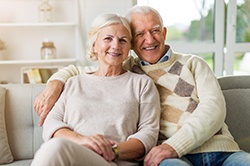 Are you feeling uncertain about your decision to choose dentures in Weyauwega? You're not alone. It's normal for patients like yourself to have many questions about the process, aftercare, and what life will be like once your new prosthetics are put into place. Fortunately, Dr. Twohig is here to provide thoughtful answers that will guide you in your decision to improve your oral health with these safe, reliable, and tried-and-true tooth replacement solutions. If you do not see your question listed below, please make sure to contact us to schedule an appointment.
How long will you have to wait to get dentures after your teeth are pulled?
It is not uncommon to have to wait 6-8 weeks after having a tooth removed before you can receive your dentures. Of course, each patient is different, so depending on your case, this timeline can vary. It is necessary that your gums fully heal and for your dentures to fit comfortably before beginning life with your newfound prosthetics. While it is possible to receive immediate dentures following an extraction, this is not always possible. Same-day dentures do make it possible to eat right away and speak more clearly; however, Dr. Twohig will be unable to preview the fit of your new smile. As a result, you will likely need an adjustment as your gums and bone change shape during the healing process.
If you are receiving implant dentures, it will be necessary for you to wait between 4 and 6 months before receiving your customized denture because osseointegration must be a success (the fusing of the implant with the bone).
Should I have all my teeth pulled to get dentures?
When meeting with Dr. Twohig to discuss your case, he will always recommend trying to repair your damaged tooth as opposed to removing it. However, this is not always possible. In situations where a tooth will need to be extracted, you can trust that his recommendation is out of necessity. Should your upper or lower row of teeth be decayed or severely damaged with decay or gum disease, it may be more cost-effective to replace them with dentures than to repair each tooth. Although there is no limit to how many teeth can be extracted during one visit, you should be ready if your denture dentist in Weyauwega explains that multiple visits are needed because of the difficulty in removing some teeth.
What is the average age for dentures?
Adults of virtually any age can experience tooth loss; however, it is much more common among older generations. According to the National Center for Health Statistics, 66% of adults between the ages of 40 and 64 have at least one missing tooth, and nearly 33% of adults between the ages of 20 and have a single missing tooth. When looking at these numbers, it's easy to see why patients over the age of 40 are more likely to need a partial or full denture.
The American Dental Association (ADA) also states that nearly 57% of people between 65 and 74 currently wear some form of denture.
Do upper dentures always cover the palate?
It is possible to receive palateless dentures for your upper arch. By having this type of denture created, you will be able to taste food that you previously could not with a traditional prosthetic. A palateless denture will not cover your soft palate but instead be shaped similarly to a lower denture, which looks like a horseshoe. The same style is also created for patients receiving implant dentures. You'll need to talk to your dentist about the different types and styles so you can choose which option is right for you.
Will it hurt to get dentures?
If you require a tooth extraction before receiving dentures, you can expect to feel some discomfort in the days following your procedure. Your gums need to fully heal, but Dr. Twohig can prescribe some pain medication to help alleviate discomfort, which should only last 3-5 days. Also, when receiving your new dentures, you may have some minor discomfort, especially as your mouth attempts to adjust to the new foreign object inside it. You may have some mild irritation to your soft tissues, but this should only be temporary. Because no two patients are alike, the discomfort you will face will likely be very different from someone else. Even when switching to a new set of dentures, there is expected discomfort. If you notice that the pain you're experiencing is lasting longer than a few days or a week, make sure to call our office, as they may need to be adjusted to ensure a proper and comfortable fit.
Will dentures change the shape of my face?
It's natural when tooth loss occurs for your facial shape to change. As the jawbone deteriorates, your facial muscles will also begin to sag, causing you to develop a sunken appearance. With dentures, you will better support your facial muscles, giving you a more youthful and fuller appearance. However, should you notice your dentures no longer fitting as they should, you'll need to see your dentist as soon as possible to have them relined or replaced to avoid it impacting your facial aesthetic.
Can dentures reduce life expectancy?
It is believed that wearing traditional dentures can reduce your life expectancy by up to 10 years. The reason for this is that the loss of bite force makes it harder to eat healthier, nutrient-rich foods, causing many patients to succumb to eating unhealthy foods that can cause malnutrition and weight loss. However, implant dentures can help you avoid these issues because they increase your bite force and offer greater chewing power. This enables you to maintain a healthier diet that is beneficial for your oral and overall health.