Dental Crowns – Weyauwega, WI
Stronger Restorations for Healthier Smiles
For decades, patients living with decayed and damaged teeth have turned to dental crowns in Weyauwega to repair and restore their smiles. These time-tested, artificial teeth remain one of the most effective restorative solutions available, allowing individuals to enjoy renewed oral health and an improved aesthetic. However, one thing has changed – the way they're made. Dr. William Twohig is one of a growing number of dental professionals who offer metal-free dental crowns. Instead of relying on traditional amalgam, these custom-made restorations are made using high-quality materials that are non-toxic, biocompatible, and natural in appearance. Contact our office today to schedule an appointment with Dr. Twohig to see if you need a dental crown to repair your broken smile.
What is a Dental Crown?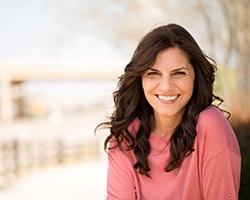 Also known as a "cap," dental crowns are custom-made prosthetics that mimic the look of your natural tooth while protecting the weakening structure beneath it. Most often, patients with severely decayed or damaged teeth can expect to be recommended for a dental crown, as they are ideal solutions to help strengthen the natural structure while protecting it from future reinfection or damage.
It is also possible that Dr. Twohig might recommend a dental crown if you:
Have a chipped or broken tooth
Have an enlarged filling that has spread and caused damage to the tooth
Experience discoloration of a particular tooth
Recently underwent a root canal or dental implant placement
The Dental Crown Process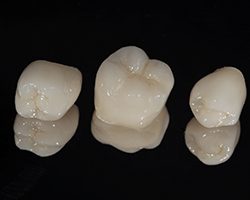 The process of receiving a dental crown typically takes two visits to our dental office. During the first visit, your dentist in Weyauwega will administer local anesthesia to numb the tooth and the area surrounding it before clearing away any of the decayed areas of your tooth. Once your tooth is reshaped and any remaining debris is removed, Dr. Twohig will take an impression of your tooth and send it off to a lab where technicians will begin to fabricate your customized dental crown. You will then receive a temporary crown, which you will wear while until your finalized prosthetic is ready for placement.
Your final appointment will consist of removing your temporary crown and replacing it with the final restoration. A special bonding agent will be used to secure it in place, ensuring it remains strong and sturdy for a healthier, fully functional smile.
What Are the Benefits of Dental Crowns?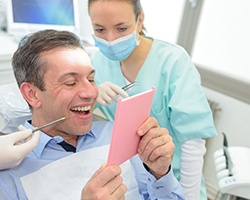 You'll enjoy an improved aesthetic that results in boosted confidence
You will rest easy knowing your weakened tooth is fully protected from further reinfection or damage
These restorations are quick and easy to place, requiring only two dental visits
They are easy to clean and do not require you to purchase any special tools or products
Dental crowns are made using the highest-quality materials. When properly maintained, they can last a decade or longer