Metal-Free Restorations: Lifelike, Durable, and Beautiful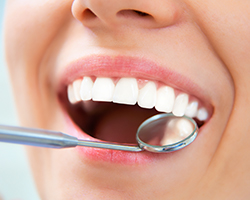 Traditionally, dental restorations that are used to repair decayed or broken teeth have been made of a metal alloy or gold. Not only do these materials seriously stick out in a smile, but they can also make a tooth much more sensitive to hot and cold temperatures.
This kind of solution simply isn't good enough for our patients, which is why Dr. William Twohig only uses strong, durable, and natural-looking all-porcelain restorations. These restorations are just as reliable as their metal counterparts, but they can also be shaped and shaded to completely resemble natural enamel, even down to how it reflects light. The end result is a tooth that blends seamlessly into the smile while not making it more sensitive.
If you're ready to turn back the clock and repair your teeth in the most complete and long-lasting way possible, contact us today and ask about metal-free restorations.