Ozone Dental Treatments: Less Invasive, More Effective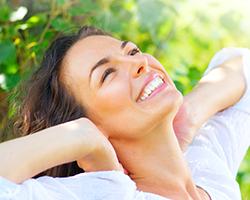 A big part of our practice's philosophy is using the most conservative methods possible to help our patients. Our goal is to keep your smile and your body as pure and natural as when you came to our office. Because of this, we like to utilize an array of treatments known as ozone therapy. Ozone, or O3, is enriched oxygen. It is just as safe as the air you are breathing now, and in our office, it provides a number of functions that can help protect and enhance your smile in the gentlest way possible.
How is Ozone Used in Dentistry?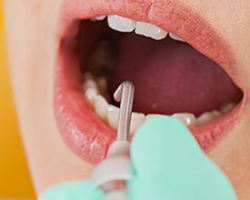 Ozone has all sorts of applications in dentistry and healthcare in general, but in our office, we like to use it in a few particular ways:
Periodontal Therapy: Ozone can provide quick and non-invasive periodontal therapy by using ozonated water to kill bacteria located around and below the gum line. After an ozone treatment, we typically don't need to clean along the gum line as deeply because the infection has mostly been eliminated.
Decay Removal: Ozone gas is capable of killing decay-causing bacteria to stop the progression of a cavity. Typically, decay would need to be manually removed, but by simply killing the bacteria using ozone, we can then apply a small tooth-colored filling instead of needing to completely rebuild the tooth with a crown.
Lower Sensitivity: Ozone can also be used to help aid the remineralization process of the teeth, or strengthen its enamel, which will help it protect the delicate internal nerve and lessen a tooth's sensitivity to hot and cold temperatures.
Through the strategic use of ozone water, gas, and oil, we can help you preserve more of your natural teeth as well as enjoy a more comfortable dental experience. To learn more about ozone therapy and what it could do for you, contact us today.
Pur03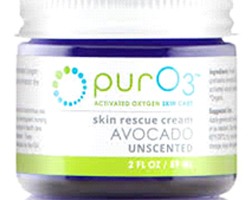 Dr. Twohig wants all patients to enjoy the benefits of ozone oil. Due to popular demand, we've decided to partner with Pur03, a fantastic company that sells high-quality activated oxygen combined with premium-grade oils. With the help of oxygenated oil, you can effectively treat common skin conditions. This includes skin cuts and rashes, acne, wrinkles and age spots, diaper rash, rosacea, and many other common ailments! If you're interested in purchasing Pur03 products yourself, feel free to follow the link here! They have a wide variety of different scents, all guaranteed to contain zero fillers, zero additional chemicals, and zero toxicity!
Promolife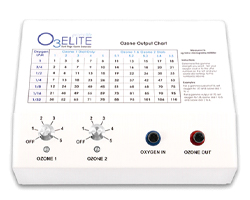 When it comes to living a more natural lifestyle, Dr. Twohig doesn't stop at oxygenated oils. He also encourages patients to consider Promolife and their extensive line of ozone products. Promolife's main goal is to offer products catered to those looking to create a healthier lifestyle. Their wide line of products, including ozone generators, glassware, connectors saunas, supplements, and other packages are sure to help you make your path to a natural lifestyle complete! We invite our current patients as well as readers to check out their website here. We hope that you find their products useful and beneficial to your journey to a healthier you!