Missing Multiple Teeth – Weyauwega, WI
Creating Complete, Permanent, and Lasting Smiles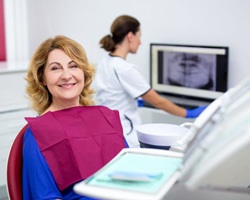 If you are in need of replacing multiple missing teeth, Dr. William Twohig will help you through the process of attaining a full, complete smile. Using an implant-retained bridge in Weyauwega, you can enjoy greater stability, functionality, and a restoration that will last much longer than traditional methods of tooth replacement. Although considered a more costly option, you will find that this type of restorative dentistry makes it possible for you to save money because you won't need multiple replacements or relining along the way. To find out how you can get started, contact us today.
Non-Implant Tooth Replacement Options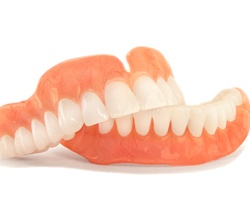 Should you prefer a non-invasive tooth replacement solution or find that you are ineligible for dental implants as a result of a weakened jawbone, there are other treatment options available:
Dental Crowns and Bridges – Using dental crowns that are fused together to create a dental bridge, Dr. Twohig can use your natural, healthy teeth on either side of the gap as anchors. Filing them down, he will carefully place the custom bridge on top of your healthy teeth, allowing the remaining crowns to sit on top of your gums.
Partial Dentures – It is also possible to restore the look of your smile with a partial denture. Using a gum-colored base and artificial teeth, clasps or clips are used to attach to your natural teeth to hold the puzzle-like piece in place.
Full Dentures – If you are missing all your teeth and prefer an easily removable fixture, Dr. Twohig will be happy to provide you with full dentures. Made from the same gum-colored base and artificial teeth, your natural suction will help to keep your dentures in place. However, some patients prefer to use additional dental adhesive for extra security.
The Dental Implant Process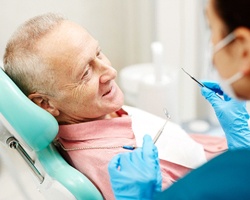 The entire process of receiving dental implants in Weyauwega can take time, but it's certainly worth it once you see the results. Initially, you will have a consultation with Dr. Twohig about your overall goals. During this appointment, he will evaluate your oral and overall health to ensure you are an ideal candidate for dental implant placement. Taking impressions of your smile, he will use these images to craft a personalized treatment plan as well as send off to dental lab technicians to create your custom, metal-free dental restoration.
Once you arrive for your surgery, an oral surgeon will make a few incisions in your gums before carefully placing each implant into your jawbone. This will ensure a stable foundation for your custom restoration. Closing up the area, you will be sent home to heal for the next 3-6 months. Allowing osseointegration to occur, it is important that you follow the oral surgeon's orders regarding your recovery phase.
The final stage of dental implant placement is to return to our office to have your implant-retained bridge put into place by Dr. Twohig. Once it is set, you will see a new and improved smile that looks and feels completely natural. Plus, it is metal-free, making it healthier for your mouth, body, and environment.
Benefits of Implant-Retained Dental Prosthetics
A restoration that can last decades if not a lifetime with proper care and maintenance
Easy to clean and maintain with only a toothbrush, dental floss, and an ADA-approved mouthwash
Improved appearance and boost in your confidence level
No chance for decay
Fewer food restrictions because of it will function like regular teeth