Single Tooth Dental Implant – Weyauwega, WI
Restoring Smiles One Tooth at a Time
If a single missing tooth is keeping you from enjoying life's greatest pleasures, it's time to turn to Dr. William Twohig. As a dentist in Weyauwega, he can restore your smile from the root up! How so? With dental implants in Weyauwega, you'll have a complete smile that makes it virtually impossible for anyone to tell the difference between your natural and artificial teeth. There's no need to walk around hiding your smile from the world when in a matter of months, you can have an improved appearance and restored confidence. To schedule a consultation with Dr. Twohig, call our office today.
Tooth Replacement Options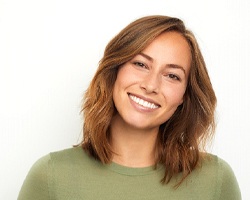 When replacing a single tooth, you have two options: a fixed bridge or an implant-retained dental crown. If you are considering a fixed bridge, it's important that you know that while it is more affordable, it will be necessary for Dr. Twohig to alter the natural teeth living on either side of the gap. This will ensure the bridge prosthetic fits snugly, as your natural teeth will serve as anchors to hold it in place. The bridge will consist of fused dental crowns, two of which will fit over your existing teeth and one that will sit on top of the gums to cover the open socket. A fixed bridge restores the look of your smile but not the tooth structure.
The alternative is an implant-retained dental crown consisting of an implant that is surgically placed into your jawbone as well as an abutment that connects the implant to the restoration and a customized dental crown.
What Are Single Tooth Dental Implants?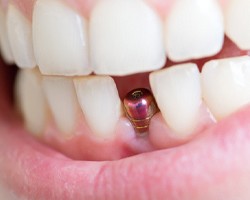 If you want a solution that is permanent and improves your oral health, there's no better option than a single tooth dental implant. These restorations replace missing teeth by mimicking you're the natural tooth structure, from root to crown.
Your dentist in Weyauwega will begin by making a small incision in your gums to expose the bone. Carefully, the implant will be surgically placed into the jawbone to ensure a solid foundation for the restoration that will live on top of the implant. It will be necessary for you to spend several months at home healing and allowing a process known as osseointegration to occur. This is when the implant fuses to the bone and surrounding tissues.
Once you've completely healed, you'll return to have the custom-made dental crown attached to the implant. The crown will match the size, color, and shape of your natural teeth, giving you a seamless smile.
Benefits of Single Tooth Implants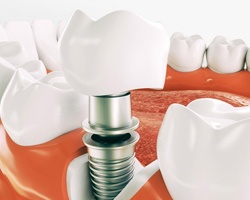 Greater stability because of the surgical placement into your jawbone
Improved functionality when speaking, chewing, and eating, giving you the confidence you need to feel good about the quality of your smile
Completely natural in appearance and feel, as the implant's restoration will match the color, size, and shape of your regular teeth
A longer-lasting restoration that can have you enjoying your smile for decades or even a lifetime
No chance of decay and minimal maintenance in order to keep your dental implant healthy
Improved oral health because of the implant's ability to restore the entire tooth structure from the root up