January 14, 2019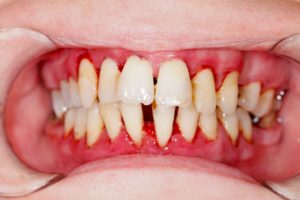 Did you know that gum disease is one of the most common chronic diseases around the world? This is largely because people don't even realize they have the condition, allowing it to progress further and further until it leaves their gums permanently damaged. Thankfully, there are ways to treat your gum disease in Weyauwega, but only if you seek treatment.
To learn more about gum disease, the different levels that exist and how a dental visit can make a positive difference, keep reading!
The Types of Gum Disease
Gum disease comes in stages, all of which have their own symptoms and side effects. The earliest stage and most mild form is known as gingivitis. This stage can be easily reversed with improved oral care and a professional cleaning from a dentist.
After gingivitis comes periodontitis, the second stage of gum disease. Periodontitis is more dangerous to your oral health because it reaches beyond the surface of your teeth and starts to develop below the gumline. Only a dentist can treat gum disease that reaches this stage.
After long enough, your periodontitis will developed into the moderate and advanced stages. At this point, the effects are irreversible and treatment only prevents future damage from developing.
The Negative Consequences of Gum Disease
The side effects of gingivitis are largely mild. They typically include mild gum inflammation as well as tenderness or red discoloration. It can also result in mild bleeding, typically when brushing or flossing. If you improve your oral care habits but your condition doesn't get better, it's time to see a dentist.
The many stages of periodontitis cause far more gum inflammation and recession, which in turn increases sensitivity, especially when exposed to extreme temperatures. This separation puts you at higher risk of an oral infection as the tooth roots become more exposed. Gum pockets begin to form and harbor bacteria and plaque, accelerating the breakdown of tissue. In the most serious cases, bone is lost and teeth begin to shift and fall out of the jaw.
Treatment Options to Consider
When you have gum disease, there are multiple options to choose from depending on the severity. Consider them below:
Scaling and Root Planing (SRP) – The most common form of gum disease treatment, SRP works to remove plaque from above and below the gumline as well as help the roots of teeth reattach.
Laser Periodontal Therapy – Via a soft tissue laser, dentists can safely and effectively remove infected tissue while minimizing your healing time in the process.
Chao Pinhole Technique – This unique treatment works to reduce gum recession. By placing a small hole inside the gums, dentists can stretch and massage gum tissue back into its original position.
Ozone Therapy – Exposing enriched oxygen to the gums works to eliminate bacteria in the gentlest way possible. It also works to improve blood flow and fight infection. This option is ideally paired with another treatment.
Do you need periodontal therapy in Weyauwega? Schedule an appointment with a dentist to get your gum health back on the right path.
About the Author
Dr. William J. Twohig offers a holistic approach to dentistry, which includes treatment for gum disease. His continued expertise and whole-body approach to treatment ensures that your dental care is as effective and natural as possible. To learn more about his treatments or expertise, you can contact him through his website.
Comments Off

on A Full Breakdown on Gum Disease in Weyauwega and the Negative Effects
No Comments
No comments yet.
RSS feed for comments on this post.
Sorry, the comment form is closed at this time.