February 16, 2019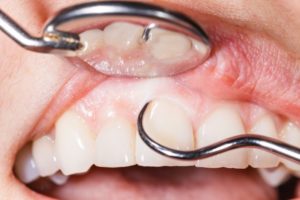 While it may seem startling at first, gum disease is way more prominent that you would initially think. In fact, 47 percent of Americans have either mild, moderate or severe periodontitis. If you're 30 years of age or older, there's a 1 in 2 chance that you have some form of periodontal disease.
When gum disease is present, the last thing you should do is sit idlily by and allow it to continue wreaking havoc on your oral structures. When it comes to treatment for gum disease therapy in Weyauwega, you have options! Here are four to consider from a holistic dentist.
Scaling and Root Planing
Also known as SRP, scaling and root planing is among the most common forms of gum disease therapy. When gum disease has developed more extensively and passed the early stage of gingivitis, professional treatments are necessary because at-home brushing and traditional cleanings are insufficient for removing these levels of plaque. This is especially true for plaque that has extended underneath the gum line, an area no floss or toothbrush can reach.
Scaling works to break down plaque both above and below the gum line. Since it's likely that you'll have tartar built up on teeth, which is only removable with a dentist's expertise, it's largely effective at preventing future infection. Root planing works to address the tooth roots that have become detached as a result of gum recession. Smoothing out the roots helps them reattach and reduces sensitivity in the process.
Laser Periodontal Therapy
If your gum disease is more advanced, then a more unique approach to treatment may be more appropriate. Diode soft tissue lasers are extremely effective at removing infected tissue in a precise and gentle manner. As a bonus, laser therapy results in little to no bleeding, swelling or discomfort during or after the procedure, making it ideal for those looking for an easier treatment experience.
Chao Pinhole Technique
One of the most common side effects of gum disease is gum recession. As soft tissue breaks down, it begins pulling away from teeth and exposing the roots. In the past, a gum graft would have been necessary, but the Chao Pinhole Technique provides a more comfortable solution.
By creating a small, pin-sized hole inside the gums, the dentist can use a special tool to stretch and massage the gum line back into its original shape and position. Since treatment uses no grafting, sutures or scalpels, you can expect a more comfortable treatment with faster results.
Ozone Therapy
Ozone is a form of enriched oxygen commonly used in the health care and dental industry. Applying ozone to infected gums has been shown to eliminate bacteria and promote blood flow, two important steps in the healing process. Ozone therapy can easily be used in tandem with other treatments and is one of the least invasive methods for gum therapy.
Don't let your gum disease control your life. Get periodontal therapy in Weyauwega from a holistic dentist for more optimal comfort and success!
About the Author
Dr. William J. Twohig works with many medical professionals in order to create the most holistic dental treatment plans possible. As a holistic dentist, he makes sure that whole-body wellness is as high as a priority as your oral health. To learn more about his gum therapy treatments or get your next treatment scheduled, you can contact him through his website.
Comments Off

on 4 Types of Gum Therapy in Weyauwega You Should Consider
No Comments
No comments yet.
RSS feed for comments on this post.
Sorry, the comment form is closed at this time.