August 19, 2019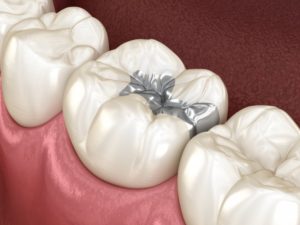 If you are unaware, August 25-31 is Mercury-Free Dentistry Week. This is a time when dentists who offer natural, holistic methods of treatment want to inform patients of the dangers associated with dental amalgams that contain the harmful substance, mercury. It's also a time to learn about newer, safe, and more effective solutions to helping individuals restore their smiles without the unfortunate side effects. Read on to find out more about this toxic substance and ways you can avoid it by choosing mercury-free dentistry in Weyauwega.
The Facts About Mercury
For decades, dentists have been using traditional amalgam fillings to restore damaged and decayed teeth. If you are one of these patients who has a shiny piece of silver gleaming from your mouth, you might no be aware of the dangerous side effects it can have on your oral and overall health.
According to the United Nations Environment Programme (UNEP) Global Mercury Assessment in 2013, it stated that an estimated 10% of the overall global mercury consumption (roughly between 270-341 metric tons) could be traced back to use in dentistry.
The reason for this is due to dentists continuing to use amalgam fillings when treating patients with cavities. The World Health Organization revealed in 2011 that nearly 50% of amalgam restorations include mercury.
Other facts that might surprise you about this harmful substance include:
24% of patients are unaware that their fillings include mercury.
Exposure to mercury can have a negative effect on various parts of your body, including your brain, kidneys, and your unborn child. In fact, many dental professionals have shown elevated levels of mercury in their system from years of exposure.
Fillings containing mercury can be detrimental to the environment, adding to the problem of pollution.
Mercury fillings can weaken your teeth over time and cause you to lose more of your healthy tooth structure.
Methods Used to Replace Mercury Fillings
If you are seeking dental fillings in Weyauwega, you will be pleased to learn that certain dentists do not use mercury in any method of treatment. In fact, a holistic dentist can safely and effectively remove mercury fillings and replace them with tooth-colored ones.
The process for removable requires patience and precision, as it is important not to expose you to mercury particles or vapor.
Using biocompatible materials, which are deemed safe for the environment and your living tissue, your dentist will use a composite resin to fill the decayed portion of your tooth, effectively sealing it to prevent further reinfection.
It's also best to be aware of the materials a dentist uses when offering treatment. A holistic dentist will always use the most natural techniques and resources to ensure your oral and overall health remains unaffected by any dental work that is performed. If you have a mercury filling, don't hesitate to talk to your dentist about safely removing the restoration and replacing it with a safer, longer-lasting solution.
About the Author
Dr. William Twohig, DDS, has dedicated the last 20 of his 40 years of practicing dentistry searching for alternative methods to offer his patients. Working with a large group of natural practitioners, chiropractors, acupuncturists, traditional doctors, and specialists, he and his staff practice a natural and holistic approach. He offers a wide range of care including preventative, periodontal and gum disease treatment, emergency care, restorative dentistry, aesthetic dentistry, ozone dentistry, dental implants, and dentures. To find out how we can help you, visit our website or call (920) 867-3101.
Comments Off

on Don't Be Fooled! Learn the Facts About Mercury-Free Dentistry in Weyauwega
No Comments
No comments yet.
RSS feed for comments on this post.
Sorry, the comment form is closed at this time.