February 3, 2022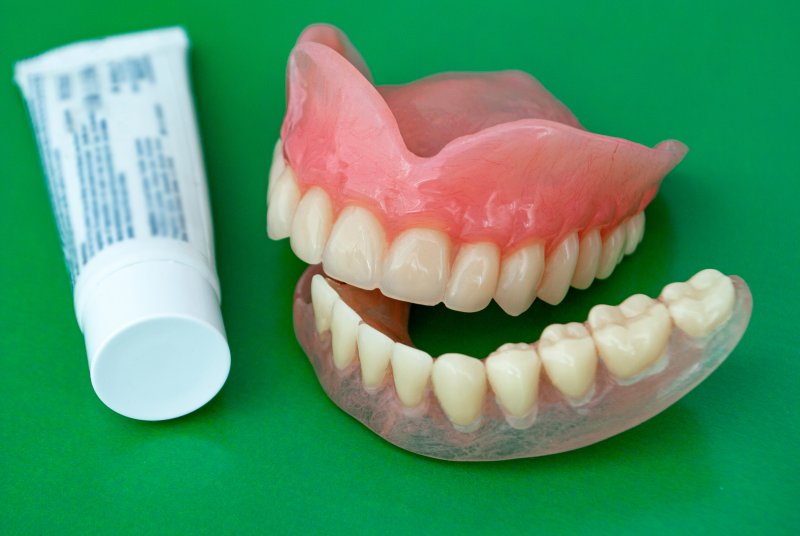 You may not realize it but using denture adhesive requires some level of skill. If you add too much, it can be a goopy mess. Not enough can often lead to accidental slippage or your teeth falling out. If you want to make sure you're using it correctly, here are some tips to follow so you get the greatest level of support and security while wearing your dentures.
When to Use Denture Adhesive
If you are new to wearing dentures in Weyauwega, you understand that your natural suction is what helps to hold them in place. However, you may be a bit apprehensive about relying solely on this practice to keep your teeth from slipping. Instead, denture adhesive can be used as an added security measure to reduce your chances of facing embarrassment while out with family, friends, or colleagues.
But how do you know when it's time to start using it? Here are a few reasons to reach for denture adhesive:
You want to feel more confident when going out to eat, giving a presentation, or simply conducting daily business. Denture adhesive can help hold your teeth firmly in place, offering greater peace of mind.
Your job/career requires that you talk a lot (i.e., teacher), so you want the added security of knowing your teeth won't accidentally fall out while speaking.
You possess a health condition that requires taking medication that can easily lead to dry mouth.
How to Prep Your Dentures for Adhesive
When it comes to applying your denture adhesive, it doesn't matter if you choose a paste, powder, strip, or wafer. You'll need to make sure your prosthetics are clean, which means brushing and rinsing them before applying your adhesive. Depending on the type of product you have, make sure to follow the instructions provided.
Once you are ready, you can then insert your dentures. You may need to hold them steady for a few seconds to ensure they adhere to your gums and feel sturdy.
The Proper Way to Remove Denture Adhesive
Once it is time to remove the adhesive from your dentures, you'll find it is quite easy if you rinse with warm salt water several times. This helps to loosen your prosthetic for easier removal. Once it is out of your mouth, you'll need to rinse your denture with lukewarm water (not hot water) and use a soft-bristled toothbrush to gently clean them. Soaking them in a denture solution is also essential.
But before you're actually done with the cleaning process, you may still have some residue on your gums. To remove this, rinse with warm salt water a few times. You can also use a soft-bristled toothbrush and a small bit of toothpaste or regular mouthwash.
When meeting with your dentist in Weyauwega to discuss your denture wear, make sure to ask about other effective tips to make living with these prosthetics easier and more convenient.
About the Author
Dr. William Twohig wants his patients to enjoy life with dentures. Because tooth loss can be devastating to a person's self-esteem and oral and overall health, having the right tools and tips from a trusted expert can make a big difference. If you are preparing to replace your missing teeth with traditional prosthetics, visit our website or call (920) 867-3101 and let us equip you with the necessary information for successful treatment.
Comments Off

on Denture Adhesive: What's the Correct Way to Use It?
No Comments
No comments yet.
RSS feed for comments on this post.
Sorry, the comment form is closed at this time.