July 14, 2022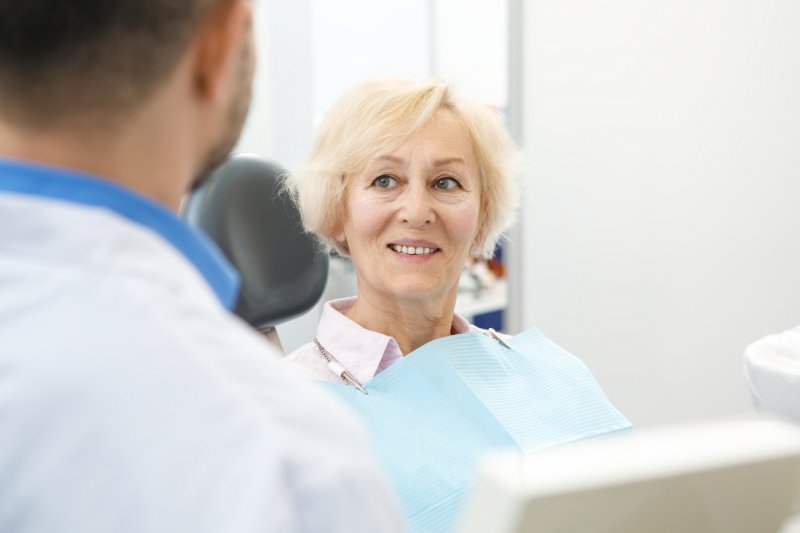 Living with implant dentures in Weyauwega is a fun and exciting change for individuals who once suffered from tooth loss. The incompleteness of a "normal" smile combined with the difficulties that can come with eating and speaking can make a person lose much of their self-esteem. However, once permanent prosthetics are firmly in place, life begins to take on a whole new meaning. But what about those initial days, weeks, and months after implant placement? A local holistic dentist explains what patients can do when adjusting to their new smiles.
The More You Talk, The Easier it Becomes
It might seem as if talking with implant dentures should be normal. After all, it's basically like having natural teeth again, right? While this assumption isn't entirely wrong, these prosthetics are still new, and the remaining structures must adjust to the new teeth replacing the once vacated sockets. Fortunately, the more you talk, the easier it will become to sound "normal" again.
Practice Optimal Oral Hygiene
Just because implant dentures cannot decay doesn't mean you get to skip out on your regular oral hygiene routine. Gum disease is still a common threat and should be avoided at all costs. To do this, you'll need to make sure you are brushing twice daily, flossing regularly, and using mouthwash to rinse away any bad oral bacteria. Fortunately, implant dentures can be cleaned just like normal teeth, and the only change you'll need to make is to avoid using abrasive toothpaste, as it can damage your smile.
Start with Soft Foods
In the days and weeks following your implant placement, you'll need to stick to eating softer foods. The reason is that your mouth might be a bit sore, so chewing on anything hard will only worsen the discomfort. Once you no longer feel pain or tenderness while eating, you can gradually move on to harder, firmer foods, giving you the ability to enjoy a nutrient-rich diet with your new smile.
Stay Hydrated and Avoid Sugars
Sugar is known for its ability to cause cavities. While this may not be an issue since you have implant dentures, it is also a common culprit of gum disease, which can negatively affect your new teeth. By drinking plenty of water, you can keep your saliva glands working properly while also flushing out anything inside the mouth that may try to harm your oral health. Sugars and starches can easily attach to your implant dentures and damage your gums, increasing your risk of possible implant failure, so limit your consumption and stick to a healthier diet.
Make sure to talk to your dentist in Weyauwega about adjusting to implant dentures and before you know it, you'll be embracing all the benefits these prosthetics provide.
About the Author
Dr. William Twohig understands tooth loss can be devastating, especially around the holidays. If you're tired of feeling ashamed of your smile and want to embrace a better quality of life, visit our website or call (920) 867-3101. Our dental team will work with you to establish your smile goals and help you achieve a newer, healthier, and more beautiful appearance while using ceramic dental implants. Not only will you regain better functionality when eating, speaking, and smiling, but you'll also enjoy prosthetics that can last decades or even a lifetime with proper maintenance.
Comments Off

on Life with Implant Dentures: How to Adjust to Your New Smile
No Comments
No comments yet.
RSS feed for comments on this post.
Sorry, the comment form is closed at this time.